Ferrari F430 Spider drifting and donuts
The F430 Spyde is powered by a 4.3 liter naturally aspirated V8 with 490HP (360 kW) at 8500RPM and 465 Nm (343 lb-ft) of torque at 5250RPM, 80% of which is available below 3500rpm.
Despite a 20% increase in displacement, engine weight grew by only 4 kg and engine dimensions were decreased, for easier packaging.
The connecting rods, pistons and crankshaft were all entirely new, while the four-valve cylinder head, valves and intake trumpets were copied directly from Formula 1 engines, for ideal volumetric efficiency.
The F430 has a top speed of 315 km/h (196 mph). 0-100 km/h in 4.0 seconds.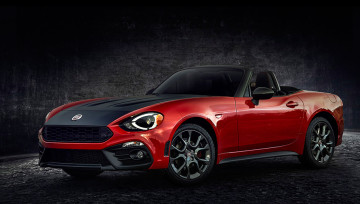 2017 Fiat 124 Spider Elaborazione Abarth
Since the introduction of the Fiat 500 Abarth at the 2011 Los Angeles Auto Show, the DNA of Abarth has connected with driving enthusiasts in search of a sharp, wicked,...

Maserati Partners With The...
On Saturday 12th March the Royal Academy of Arts opened its...