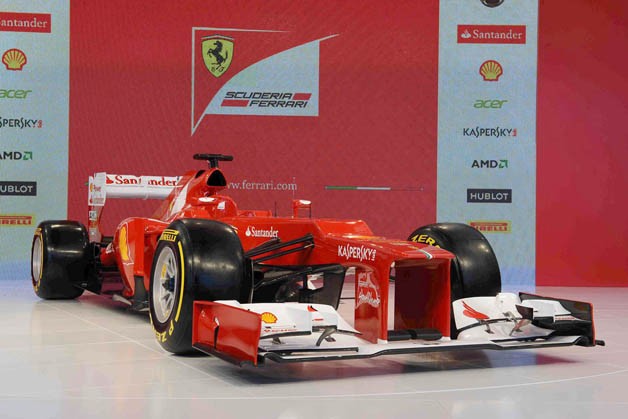 Few things can stand between a Ferrari and the finish line. Not rain, not sleet and certainly not snow. So while the latter fell in prodigious quantities on Maranello, where Ferrari was planning to unveil its latest F1 challenger yesterday, that didn't stop the Scuderia from showing it off to the world, through the magic of this newfangled invention they're calling the "internet".
The F2012 you see here is the fifty-eighth F1 car built by Ferrari, comprising a chassis and powertrain developed and produced entirely in-house: a rarity among F1 teams, particularly in these past few years since major manufacturers like Honda, Toyota and BMW withdrew from the sport.
The most prominent change to the car's form over the F150˚ Italia it replaces is the rather aesthetically challenged but aerodynamically-optimized stepped nose, which (like the one on the Caterham CT01 and expected to follow on several more) conforms to revised FIA regulations while allowing sufficient air to pass underneath the nosecone to allow the underbody aerodynamics to do their thing. The rear section is also more tapered, leading to the rear wing with the Drag Reduction System that returns from last season.
That's all well and good, of course, but what really matters is how the F2012 is going to stack up against the competition – particularly from the returning champions at Red Bull and longtime rivals at McLaren. Fernando Alonso and Felipe Massa will wring out all the F2012 it has to offer, but only time will tell if they'll be able to add another trophy to the cabinet in Maranello. In the meantime you can check out their new ride in the high-res image gallery above and follow the jump for the full press release, technical details and video footage.