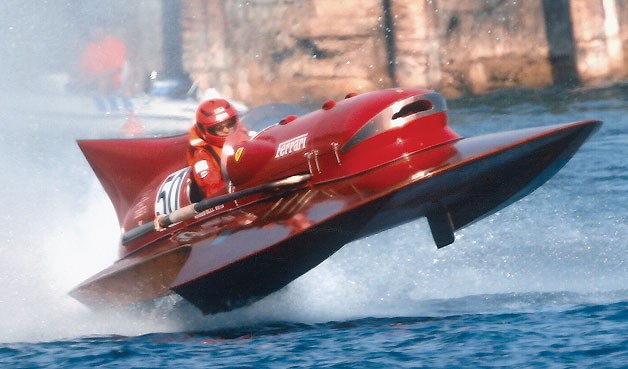 There are any of a number of places you'd expect to find a Ferrari: at the race track, on the auction block, in the showroom, parked in front of the swankiest restaurants in town… To see one in the water usually spells trouble, but history is not without its exceptions.
Back in the 1980s, Italian boatbuilder Riva collaborated with Ferrari for a rather Testarossa-inspired speedboat, but long before that, the House that Enzo Built lent its expertise and 4.5-liter V12 engine to Achille Castoldi to build the hydroplane power boat you see here.
Castoldi was bent on setting a new speed record on the water, and with this spectacular watercraft – dubbed Arno XI – he did just that. The Ferrari-powered vessel hit an astonishing 150.19 miles per hour at Lake Iseo in northern Italy on October 15, 1953. That's mighty impressive in its own right, but what's even more astounding is that the record stands in the 800kg category to this day.
To get there, Ferrari and Castoldi took the same Type 375 4.5-liter V12 engine that powered Jos