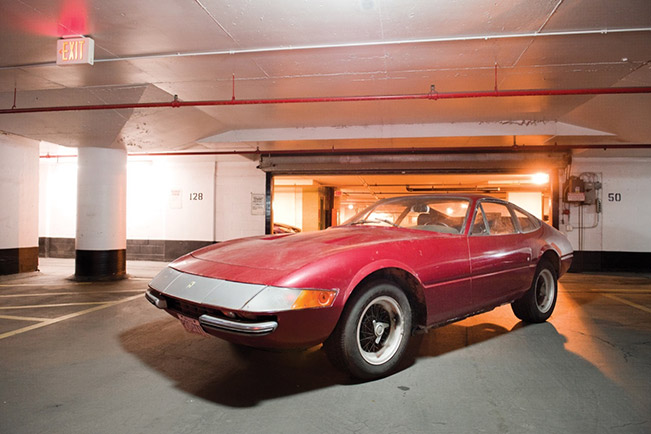 352 bhp, 4,390 cc DOHC V-12 engine with six Weber carburetors, five-speed manual transmission, independent front and rear suspension with unequal length wishbones and coil springs over telescopic shock absorbers with anti-roll bars, and four wheel disc brakes. Wheelbase: 94.48 in.
Every big city has its legends, and among the car guys who gather at bars after work and in suburban garages, they spread like wildfire. The single-owner Corvette still in the widow's carport. The Duesenberg still in the original family's carriage house. Most of those are, of course, just fun rumors.
On the other hand, urban legends are true sometimes.
The story told here belongs to one such legend, what has become known as "the Condo Find Daytona," or – after the eight-track tape of "Disco Rock" still stuck in its K-Tec player – "the Disco Daytona." For the last 25 years it has been hidden in plain sight, tucked away in the corner of a parking garage in downtown Toronto, up on blocks and under a cover, with -35 antifreeze in its radiator. It is offered here directly by its first and only owner, Patrick Sinn of Toronto, and as is often the case with someone who has owned a car since new – for 44 years! – he tells the incredible story best.
The year was 1971. I had just finished skiing in Charmonix, France, and I went to Geneva to catch a flight home. I was waiting in the airport for the flight to take off, and it was delayed, so I had the whole day to stand in the airport doing nothing. I heard about this Geneva International Motor Show, so I said, "Why don't I just go there and check out the new models?"
When I got there, Ferrari had a display of two Daytonas and a 246 Dino. That was the first time I set my eyes on the Daytona, and I fell in love with it. I sat in the car, and walked around it a million times, and said to myself, "I want to buy one." So I talked to the salesman at the motor show and asked him, "How can I buy the Daytona?" He said, "Well, you can to any Ferrari dealership and place an order." I said, "Well, since I'm in Europe, I'm not going to wait. I'm going to go to the factory and just order a car; that's the quickest way, and that way I can pick the color, options, and what have you."
So, instead of flying home from Geneva to Toronto, I canceled my flight and bought a ticket to Milan. When I got off at the Milan airport, I rented a car and drove the rental car all the way to Modena, where the Ferrari office is. I went into the office and told the gentleman inside that I wanted to buy a Daytona.
He introduced me to a Mr. Boni, who was the sales manager, and he showed me the list price, options, choice of color, and upholstery. I signed a contract with them to buy a Daytona, and picked Bordeaux Red with a metallic base, because I liked that color, and also picked the two-color upholstery that I like. They told me I had to come back in the summer when the car was ready, because I told them, "I want to come here, take the car out of the factory, and drive it in Europe for a while before shipping it back." They said, "Fine. We will fit you with an EE license plate so you can drive it anywhere in Europe."
Approximately $18,000 U.S. later, plus a little bit more money for spare parts because I wanted some spares for tune-ups and brake work, I left Ferrari with a deposit.
In July of 1971, they told me that the car was ready, so I flew over to Milan and got down to the factory and took possession of the new Daytona.
When I first drove from the factory to Geneva – almost all the way on the autostrada – I stayed in the InterContinental Hotel in Geneva. While relaxing by the poolside, I was showered with admiration from strangers from all over Europe, wanting to talk with me about the shiny Daytona. It appeared to me that Europeans, in general, knew more about Ferraris than North Americans. I quickly made new friends around the pool. They liked to get a ride in my car, and in return, they showed me around town, took me to restaurants and to discoteques, and we all had a good time enjoying our new friendship. After that, I drove on the autobahn, to Zurich, and received a wonderful reception at the Dolder Grand Hotel.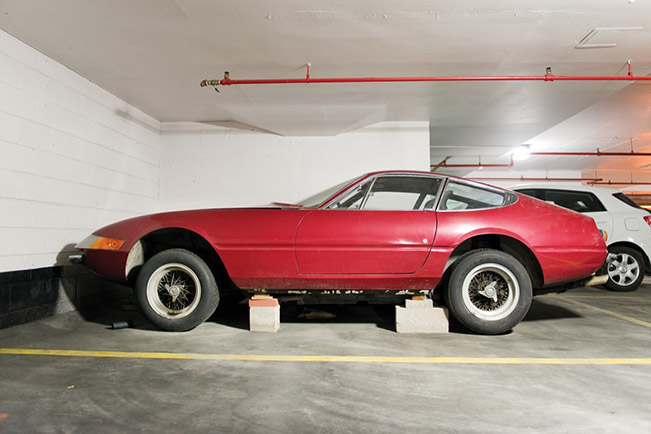 After Europe, about a month's driving, I left the car at the factory for them to do the first oil change and check out the engine before they shipped it over to North America. I drove it south to Marseilles, where I was catching the QE 2, sailing from Marsailles to New York. They let me put the car on the ship and store it below-deck so that when I got off in New York, I could drive the car home to Toronto. Every couple of days, I would go below-deck and look at the Ferrari, to make sure there was no seawater damage!
Of course, at the border, they told me I could not import this car into Canada, because it did not meet all the safety and pollution requirements of a foreign import. But they let me go anyways; I had to put up some kind of bond to clear customs, and tried to convince them it was a one-off and not really causing any environmental damage. So after haggling with them for a while, they just let go. I guess in those days, in 1971, there weren't too many foreign imports, and certainly not enough for them to worry about.
In 1989, my dad passed away, and I had to rush back to Hong Kong to take over his shipping business with my two brothers. Because I had to leave in a hurry, I just put the car up on blocks, covered it, and left, thinking, "I'll be back in a few months." But things didn't work out, because after the funeral, there were lots of estate matters to be resolved, so I ended up staying in Hong Kong for the next six years. I finally got back to Toronto, where I was very involved in real estate and very busy. As I already had a Mercedes-Benz 280 SL and a Ford to drive, I didn't need to drive the Ferrari.
I have never been to a car auction in my life, but looking at the car sitting in my garage, where they wash down the floors four times a year, I noticed that the car was beginning to lose its shine. I had two choices: I could spend big money to restore it, or I could sell my beloved toy and let somebody enjoy it. I opted for the latter, realizing, at 77 years old, that I would not be enjoying the car as much as I used to, because I had other priorities in life. So why not let another Ferrari aficionado enjoy it?
I found out online that RM is the biggest auction house worldwide for antique Ferraris, followed their auctions closely for a time, and said, "Well, let me give them a call, and see what happens…"
Source: RM Auctions via YouTube