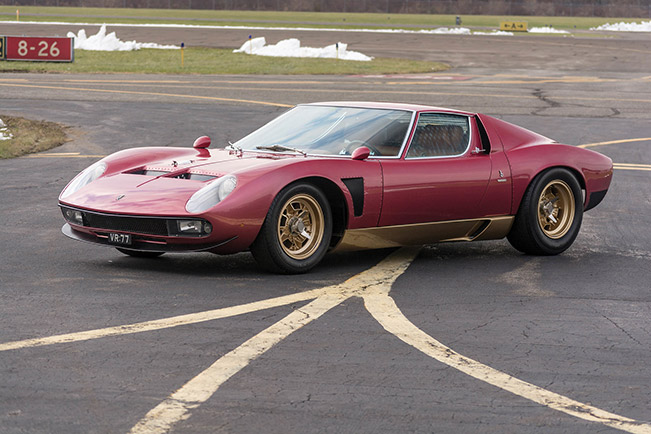 The prototypical mid-engined exotic, the Lamborghini Miura is fast becoming a collectors' favorite. While they were trading hands at around a quarter of a million dollars less than a decade ago, prices have been skyrocketing, with the last few examples to go up for auction trading at over a million. But this particular example is expected to fetch well over $2 million when it crosses the block later this month.
That's because this is no ordinary Miura – it's an SV Jota, one of only five or so originally made by the factory in Sant'Agata Bolognese. A pet project of the company's Kiwi test driver Bob Wallace, the Jota project was meant to explore what would happen if Lamborghini went racing. Old man Ferruccio wasn't interested though, and the original Jota prototype was destroyed. Word soon got out, however, of the Jota's modifications, and a handful of customers sent their Miuras back to the factory to be upgraded to Jota specification.
With so few Miuras built to Jota specification, it's rare to see one trade hands. The last one we saw actually sell at auction went for $1.15 million in October 2010, but this particular example is estimated to rake in between $2 million and $2.6 million at RM's upcoming auction in Arizona on January 15-16. In fact, the last time this particular one crossed the block, it failed to sell despite a high bid of $2 million.
Chassis number 4892 was initially ordered new from the factory as a Miura SV in 1971 by a customer in Rome in white with a blue interior. Within the following three years, it returned to the factory for Jota upgrades, and was then sold to a customer in Japan where it resided until moving to the US in 2007, taking top honors at the William K. Vanderbilt Jr. Concours d'Elegance in Rhode Island. Despite its excellent condition, it underwent a comprehensive two-year restoration, and its authenticity has been certified by numerous experts, including by the late Bob Wallace himself.
If it sells this time around, data from Sports Car Market tells us it will smash the record for Miuras and challenge even the $2.5 million paid for a Reventón in 2009 and the $2.16 million paid for Bertone's one-of-a-kind Lamborghini Marzal concept in 2011 to take its place among the most expensive Lamborghinis ever sold.
Source: autoblog