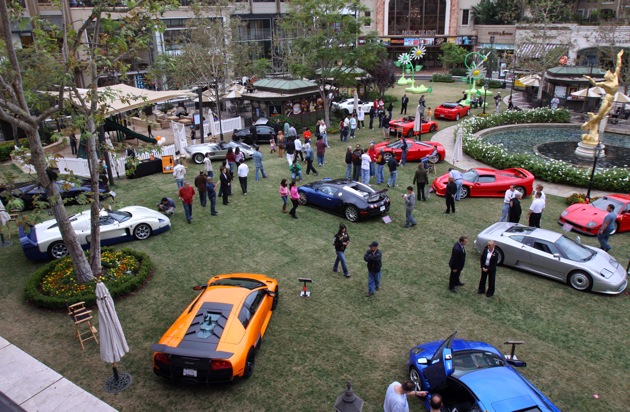 The 2nd Annual Caruso Concours was held this past weekend at The Americana at Brand shopping center in Glendale, California. Put off a bit by threatening skies, we didn't make it out there ourselves, but luckily, Autoblog friend and shutterbug Greg Grudt was there to capture all of the excitement for us. This sophomore outing was once again put on by The Petersen Automotive Museum, and as was the case last year, a brace of incredible vehicles showed up to this fitting but unorthodox locale. Showgoers could peruse the cars for a bit and then pick up a Tiffany necklace on their way out.
This year's gathering focused on supercars – in particular, supercars capable of 200 mph. Not meant to be an exhaustive showing of double-century barrier breakers, it nonetheless attracted an impressive array of cars capable of close to, if not over, the magic mark. The fun part was just seeing them all together in one place. Judging by Grudt's images, it looks like the Americana also happens to be hosting a few of those Toyota solar sunflowers, which made for an interesting juxtaposition.
Supercars right off the showroom floor mingled with old-timers from as far back as the Eighties. For instance, the display included not just the Bugatti Veyron, but also its forebearer, the EB110. The list of cars in attendance read like a roster of World's Fastest Cars contenders. Ferrari was represented by an Enzo, F50, F40, 288GTO, 16M, and a SuperAmerica. The Lamborghini cluster was comprised of an LP670-SV, LP640-4, LP560-4 and even a Countach. There was also a Mercedes-McLaren SLR, CLK DTM, Ford GT, Dodge Viper, Cizeta V16t, Maserati MC12, Nissan GT-R, Audi R8, and even a Jaguar XJ220, which complemented the long flowing bodywork of the adjacent Maser quite nicely. They even dragged out the AREX Concept which was supposed to be good for 214 mph.