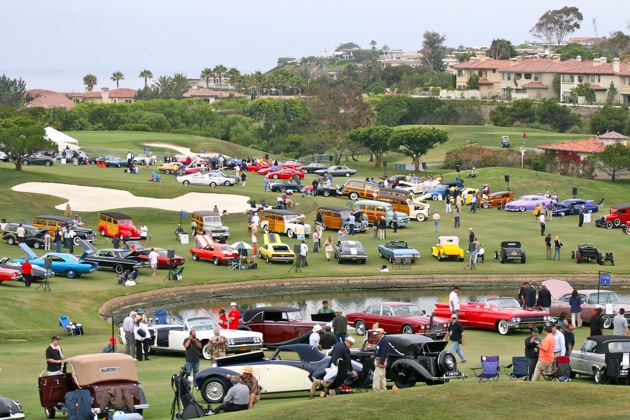 2010 Dana Point Concours d'Elegance
It seems a bit odd calling this the 28th Annual Dana Point Concours d'Elegance when it's only been in this city for three years and has only had that name officially for one, but after spending a good portion of Sunday at the St. Regis and its Monarch Bay golf course, it really felt like this is where this show was always meant to be. With dramatic views of the ocean, the rolling greenery of the links and the surrounding mansions, the venue feels like it was built solely to play host to Southern California's premiere concours.
Second only to Pebble Beach in prominence among the California concours, Dana Point has really come of its own. With nearly 200 judged entries and perhaps an equal number of display vehicles, it's a big show that still manages to feel manageable, and the field of entrants was once again amazing. This year's show honored 100 years of Alfa Romeo, 80 years of Pininfarina and 20 years of the Ferrari F40, as well as drag racing legend Don "The Snake" Prudhomme. Classes included American Pony & Muscle Cars, Corvettes to 1967, Kustoms & Hot Rods, and the second annual exhibit of Supercars, as well as a new category for vintage motorcycles.
With proceeds going to support the Ocean Institute, the Mary & Dick Allen Diabetes Center at Hoag Hospital and other Southern California youth charities, the Dana Point Concours is run as a Classic Car Club of America (CCCA) Concours, but with some of those additional classes thrown in to showcase particularly interesting and relevant automobiles. Just take a look at the photo above and you'll see the wide variety of outstanding vehicles that this show attracts. Click through the rest of the gallery and you'll see everything from a Bugatti 57SC to the nicest Oldsmobile Starfire you're ever likely to encounter.
Some favorites this year included just about everything in the gallery, but especially the low mileage original '57 Cadillac Eldorado Brougham, '32 Ford Phaeton Hot Rod, '58 Ferrari 250 Tour de France, '59 Ferrari 250 GT Series I Pinin Farina Cab, 1980 Kawasaki K2, "Animal House" Death Mobile, that crazy cute 1957 Fiat "Eden Rock" Yacht Tender, and the fantastic '52 Muntz Jet Convertible. The Muntz, however, wasn't our top pick. That honor had to go to the Bugatti among the classics, Don Prudhomme's funny car collection among the American cars and the Alfa Romeo TZ2 GT Coupe as the car we'd most like to drive. Click below to check out the massive gallery and pick out your favorites.