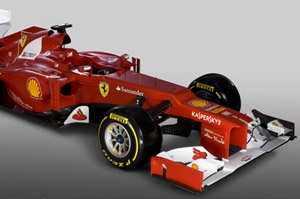 Here are the specs of the new F2012 formula one car by Ferrari.
The manufacturer devoted a great deal of time to the performance and optimisation of the materials used, right from the design stage of each of around six thousand components that make up the car.
Obviously, quality control remains a crucial aspect, as does the goal of reaching maximum levels of performance and reliability, while maintaining the highest possible safety standards.
The three test sessions – at Jerez de la Frontera and Barcelona – will serve to get a picture of the handling of the F2012 and to adapt it to the Pirelli tyres. Indeed, getting the most out of the tyres has been an area that has seen a lot of work both at the design stage and in how the activities at the track are to be managed.
The car is due to undergo a very intensive development program over the first part of the season, especially on the aerodynamic front.
See the specs below.
Technical Specs
Chassis
Carbon-fibre and honeycomb composite structure
Gearbox: Ferrari longitudinal gearbox
Differential: Limited-slip differential
Command: Semiautomatic sequential electronically controlled gearbox – quick shift
Number of gears: 7 +Reverse
Brakes: Brembo ventilated carbon-fibre disc brakes
Suspension: Independent suspension, pull-rod activated torsion springs front and rear
Weight with water, lubricant and driver: 640 kg
OZ Wheels (front and rear): 13″
Engine
Type: 056
Number of cylinders: 8
Cylinder block in sand cast aluminium: V 90°
Number of valves: 32
Pneumatic distribution
Total displacement: 2398 cm3
Piston bore: 98 mm
Weight: >95 kg
Electronic injection and ignition
Fuel: Shell V-Power
Lubricant: Shell Helix Ultra