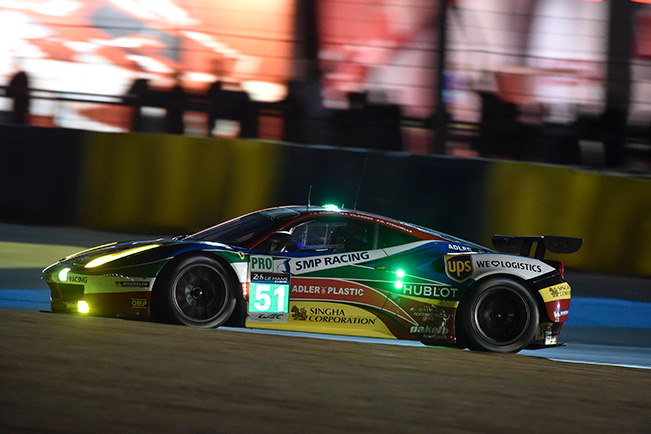 The Ferraris were competitive, but unlucky, in the first qualification sessions, which did not lack surprises, with times voided, red flags, and a shortened session. The two 458 Italia entered in the GTE-Pro category as well as the six  competing in the GTE-Am class kept a good pace, taking advantage of improved track conditions, but both cars in the top category were penalized.
GTE-Pro
In the GTE-Pro class, the Ferrari number 51 of titleholders "Gimmi" Bruni, Toni Vilander, and Giancarlo Fisichella had recorded the second fastest time, but then Bruni had all his times voided for failing to observe the track limits at curve 6, Tertre Rouge. Now Bruni risks having to qualify on a wet track, a situation that, obviously, would penalize him beyond measure. Tertre Rouge was also deadly for James Calado, standard-bearer of car number 71, who, however was notified on time by the race managers and was able to go back to the track. In the end, the car, shared with Davide Rigon and Olivier Beretta, took seventh spot. The Aston Martin number 99 recorded the fastest time.
GTE-Am
A Ferrari of the AF Corse team is second in the standings of the GTE-Am class. It is car number 83 driven by François Perrodo, Rui Aguas, and Emmanuel Collard which was preceded only by the Aston Martin of Pedro Lamy, Paul Dalla Lana, and Mathias Lauda. Car number 72 of the SMP Racing team driven by Andrea Bertolini, Aleksey Basov, and Victor Shaytar also did well, recording the third best time, while car 61 of AF Corse (Mann-Cressoni-Giammaria) was fifth and car 62 of Scuderia Corsa (Sweedler-Bell-Segal) was seventh. Car number 55 of AF Corse (Mortimer-Cameron-Griffin) had a more difficult session,  stopping on the track for a few minutes and coming in ninth place. Car 66 of JMW Motorsport (Al Faisal-Giermaziak-Avenatti) also had a difficult session, finishing in eleventh position. The second qualification session is scheduled for today from 7:00 p.m. to 9:00 p.m.; it will be followed by the last night session from 10:00 p.m. to midnight.
Source: Ferrari