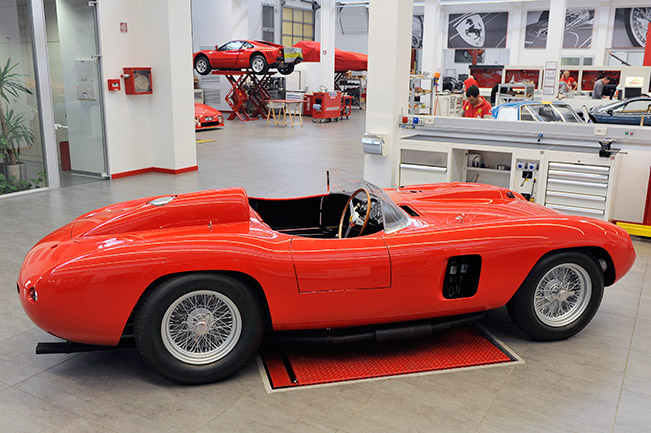 The Ferrari 290 MM restored by the Classiche Department at the end of last year has made a triumphant return to competition, winning "The Chairman's Choice Trophy for the Car Found Most Appealing by the Chairman" at the Amelia Island Concours d'Elegance. Significantly, final approval for the award came from Honorary Chairman Sir Stirling Moss who himself won two races for the Temple Buell team in the 290 MM at the fourth Bahamas Speed Week in Nassau in 1957.
Born the 860 Monza. Built in 1956 to take part in sports prototype competitions, the 290 MM actually started life as the 860 Monza. Its maiden race was the Mille Miglia in which it competed as an official works car, finishing second overall thanks to the talents of English duo, Peter Collins and Louis Klementaski. In that same year, it also came second in the Coppa d'Oro delle Dolomiti with Olivier Gendebien and Jacques Washer as well as third in the Targa Florio, with Hans Herrmann and Olivier Gendebien, and in the Aosta-Gran San Bernardo in the hands of Italian driver, Umberto Maglioli.
The transformation. At the end of 1956, however, Enzo Ferrari decided to replace the 4-cylinder engine with a 12-cylinder, and the car was renamed the 290 MM. It made its debut under that moniker at the Buenos Aires 1000 Kilometres in January during which Wolfgang Von Trips, Peter Collins and Eugenio Castellotti drove it to third position. Eleven months later, it delivered the abovementioned two wins in the Bahamas with Stirling Moss. The following year, the great Dan Gurney delivered a second-place finish in the 290 MM at Watkins Glen and it continued racing until 1961. Years later, the 290 MM embarked on a second career, competing in the classic car races and concours d'elegance. It underwent major modifications after an accident but eventually its new owner decided to send it to the Classiche Department for radical restoration to return it to its original forms.
Source: Ferrari