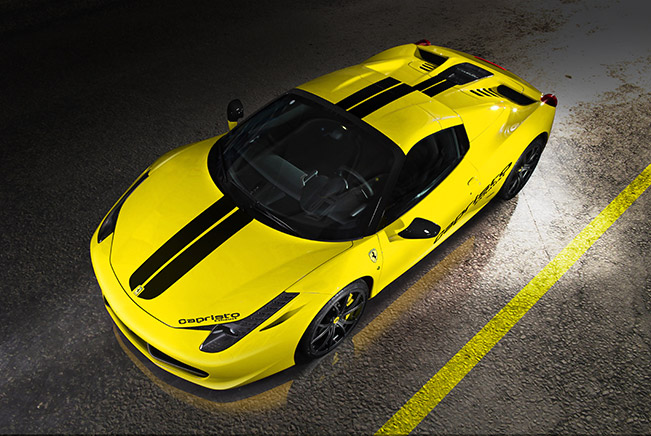 Wanting to optimize a Ferrari, nearly borders on blasphemy. And that not all dare to lay a hand on a Ferrari for good reasons, suits the Sauerland company Capristo in Sundern just right. The team led by CEO Antonio Capristo is among others, known worldwide for exquisite exhaust systems of premium quality, when it comes to lending a sonorous voice to the finest vehicles in the upper premium segment.
 
But at this point, the discussion should be about another specialty of the house Capristo: the tinkering, producing, and finally exchanging individual car body parts. This happened so accordingly with the engine bonnet of the Ferrari F458 Spider, after various customers criticized, that their view into the "engine room" was being denied.
 
While the original engine bonnet is closed and built very shallowly, the other shows, after a long, intensive and cost-intensive development period, a vertically centered transparent pane, which allow the mostly envious gazes upon the 8-cylinder engine. In addition, due to optic but also cooling-technical reasons, additional air vents came in, the flanks beside the pane were built more aggressive and higher so that more air is brought to the air-intake of the airbox during higher speeds, and to supply the oil cooling with more air.
 
The conversion set with uncompromising precision fitting from the company Capristo, contains an engine bonnet with glass pane, two side covers, lock cover and an airbox which brings up to 25 Nm additional torque. All parts were produced from baked carbon, and of course, also an engine bonnet as an unlacquered set is available at a cost of 9,800 Euro!
Source: Capristo