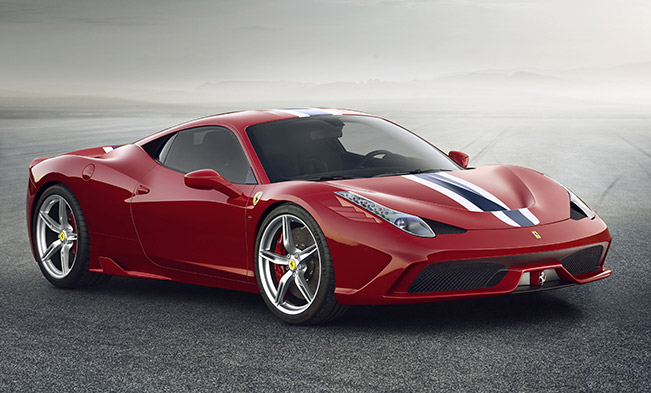 Ferrari has been honoured once again to receive a 5-star award from Autocar magazine, with the 458 Speciale following in the footsteps of the 458 Italia which also received a 5-star award in 2014. The 458 Speciale is Ferrari's last naturally-aspirated mid-engined V8 and is destined to be one of the all-time great Ferraris with a long list of industry accolades and awards.
In its 5-star road test, Autocar described the 458 Speciale as "Possibly the most exciting and uncompromising car in the world." The magazine added: "The Speciale wins you over because it's such a pure, uncorrupted driver's car. Like all great performance cars, it feels over-provisioned for sheer grip and agility, communicates effectively and challenges you to get on its level or find the limit of your own in the process. It's sensational in its handling and extravagant in its commitment to the pursuit of speed and thrill."
With 605 HP at 9000 rpm, the Ferrari 458 Speciale is the most powerful naturally-aspirated Ferrari V8 ever produced. Combined with its extremely light kerb weight of only 1290 kg – 90kg less than the 458 Italia – the 458 Speciale has record-breaking performance:  0-100 km/h acceleration in only 3.0 seconds and a Fiorano lap time of just 1'23"5. The 458 Speciale is also the first production series Ferrari to introduce active aerodynamics, with mobile devices at the front and rear of the car, designed to improve handling, performance, driver confidence and enjoyment.
Source: Ferrari