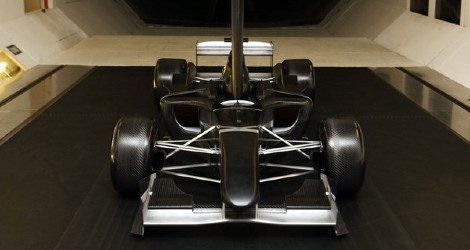 Wind tunnel testing has been a key element in the development of the A1GP World Cup of Motorsport Powered by Ferrari car for season four. The car that had its first public running at the Mugello circuit was the product of many hours spent by the A1GP technical team in wind tunnels at the University of Southampton's School of Engineering Sciences.
John Travis, A1GP Technical Director: "To ensure we continue the A1GP tradition of strong racing, coupled with lots of overtaking, the effort of the design team has been to provide a chassis that has a good level of down force, but without the normal penalties. This will make for much closer racing particularly in the corners as cars will be able to run together. We have spent in excess of 300 hours in the wind tunnel and have tried hundreds of different aerodynamic variations to ensure the close, exciting racing the series is famous for not only continues but gets better."
The University of Southampton's School of Engineering Sciences has a variety of wind tunnels which have been used extensively by Formula One, Indy Racing League and CART racing teams over the years. A 40 per cent scale model of the A1GP Powered by Ferrari car was tested at the facility and performed just as expected giving the development team a good set of aerodynamic data to work with as they continue the on track testing programme in Europe.
The testing has been continuing in France with Andrea Bertolini in the car for three days at Paul Ricard near Marseille with 400-kilometres covered on one day alone. Testing then moved to Magny-Cours, with Patrick Friesacher at the wheel last week increasing the total distance covered by the new A1GP car to 5,667 kilometres.
The A1GP World Cup of Motorsport 2008-09 season will officially get underway later this year with A1GP Mugello, Italy, 19 – 21 September 2008.
Source: A1GP