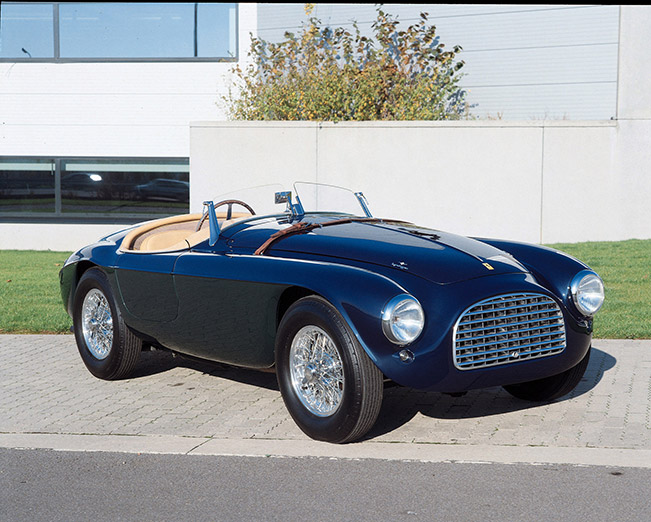 A Ferrari dominated the 2015 Villa d'Este Concours d'Elegance. The 1950 166 MM in question has a highly unusual history. Its first owner was none other than Gianni Agnelli who took delivery in July 1950 and sold it two years later to Belgian Viscount Gery d'Hendecourt. The latter subsequently passed it on to the Garage Francorchamps. Having changed its livery to blue, that team launched its competitive career. In the hands of Le Mans hero Olivier Gendebien, the 166 MM won the Coupe du Spa-Francorchamps and the Grand Prix de Spa. In 1957, it changed hands once again, this time going to Armand and Jean Blaton. Driven by "Beurlys" (Jean), it won further races in Belgium and Denmark.
On show. The car was then owned for many years by former Belgian former Formula 1 driver Jacques Swaters who took it to classic car exhibitions for the first time as well as restagings of the Mille Miglia and other great races of the past. In 1994, the 166 MM was also shown at the MoMA in New York and then later at the Nationalgallerie in Berlin as an example of Italian car design excellence. In 2012, it was purchased by Englishman Clive Beecham who had its bodywork returned to its original condition to obtain certification by the Ferrari Classiche department.
The auction at Villa Erba. On the same weekend, Villa Erba also played host to the RM-Sotheby's auction at which Ferraris made a total of 18.5 million euro. The car that achieved the highest sale price was the 1952 212 Export Barchetta, winner of several races first in Sicily and later in Switzerland, which changed hands for 6.72 million euro. Other very impressive prices were achieved by a 1963 250 GT/L Berlinetta Lusso (2 million euro) and a 1960 250 GT Cabriolet Series II (1.5 milioni). Even much new Prancing Horse models attracted excellent bids, particularly a 1985 288 GTO which made just under 2 million and a 2002 Enzo which sold for 1.26 million euro.
Source: Ferrari