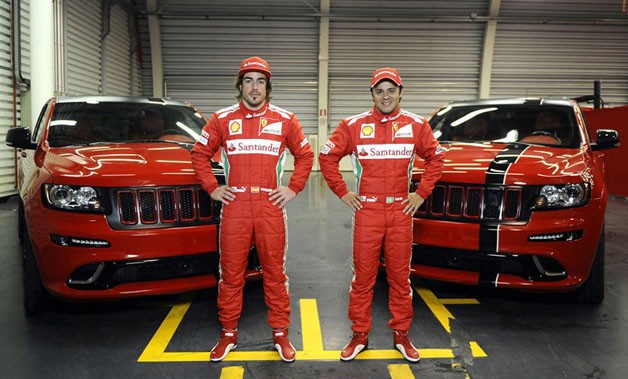 There's no end to the perks of being a Formula One racing driver, especially if you happen to drive for Scuderia Ferrari. As if piloting one of the fastest F1 cars on the grid weren't enough, Ferrari has gifted each of its gifted drivers his own 458 Italia, Abarth 695 Tributo Ferrari and Maserati GranCabrio, to name just a few. And something tells us that if either Fernando Alonso or Felipe Massa wanted anything else from the expansive Fiat-Chrysler product range – say, a Jeep Grand Cherokee SRT8, for example – that would hardly pose a problem.
That's exactly what the talented duo got the other day at the Fiorano test track at Ferrari headquarters in Maranello, where the first two examples of the new SRT8 in Europe were delivered to the pair of stars. Certainly, the Grand Cherokee SRT8 has plenty to love, what with its 6.4-liter Hemi V8 and 5-second dash to 62 mph, but Fernando And Felipe got more than that.
These two unique examples were decked out in Rosso Corso , with matte black front grille, a black offset racing stripe, black roof, carbon fiber trim and white accents. Ride height was lowered by 1.5 inches on unique forged and painted 20-inch alloys, and the interior has similarly been decked out in red leather accents and top-stitching and even yellow dials on the instruments.
Nice work if you can get it. All you have to do is convince the most victorious team in motorsport that you've got what it takes to be world champion, and you can have one too. Otherwise you can follow the jump for the press release and scope out the high-res images in the gallery above.