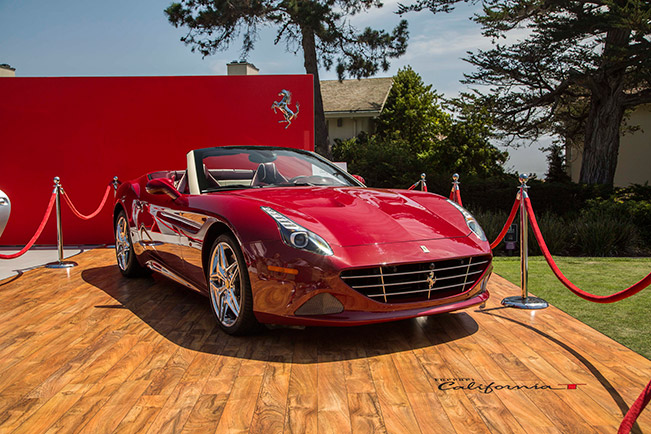 A new classic is born. On Sunday, August 16th at Pebble Beach, Ferrari displayed its latest Tailor Made masterpiece: A dark red California T with an ivory roof. This California T brilliantly demonstrates the versatility of the Ferrari Tailor Made program, that allows clients to work hand-in-glove with the Ferrari design team to conceive their ideal car.
The Concours d'Elegance at Pebble Beach is one of the most prestigious classic car events of the automotive calendar. So, it seems fitting that the Tailor Made California T exhibited here was classically inspired. The exterior in "Rosso Ferrari" is in the exact shade of the very first Ferrari ever, the 125 S , boldly underlining the elegant silhouette of the California T. Despite its vintage influence, this California T is by no means retro. The chrome front grille, ball polished rims and black brake calipers give it a sleek, contemporary look. The roof in ivory "250 Europa GT" provides a sophisticated if unexpected contrast.
But what makes this California T spectacular are the luxuriously crafted interiors, carefully chosen and studied in painstaking detail. The Tailor Made program takes many of its cues from the world of interior design, and this car is a striking example. The interiors feel like a well-appointed reading room or study. In a subtle reference to a design classic, the bordeaux leather seats, reminiscent of the iconic Dezza chairs by Giò Ponti, are accented with ivory diamante detailing and leather inserts. The opulence of the leather is juxtaposed by the cool glossy chrome accents on the dashboard and bridge create. The steering wheel is also fashioned in bordeaux leather, as are parts of the dashboard and the doors.
This year Ferrari had the privilege of being the featured automotive marque on the lawn at the Councours d'Elegance at Pebble Beach. This Tailor Made California T was on display on the exclusive first tee, a great example of how the Ferrari Design team can interpret classic influences in a thoroughly contemporary way.
Source: Ferrari