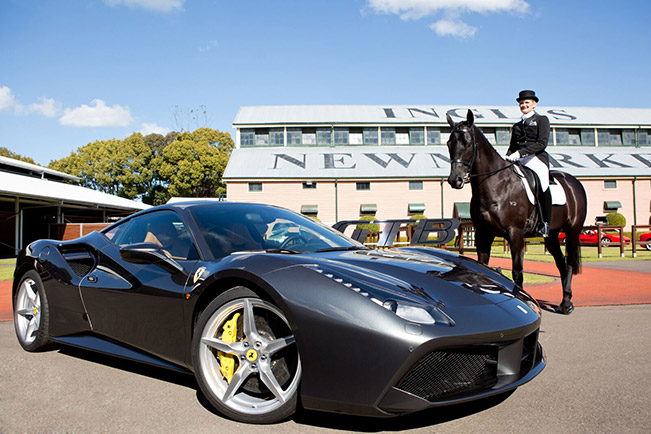 The Ferrari 488 GTB has officially made its debut in Sydney, the very first appearance in Australia following the International Motor Show of Geneva in March. Close to 300 passionate VIP guests attended the Australasian Premiere held in an exclusive thoroughbred stables in Sydney.
The Inglis Newmarket stables, established in 1906, is Australia's premier thoroughbred horse stables and home to some of the world's most impressive, exclusive, and expensive horses. Ferrari guests were delighted to see the authentic stables completely transformed into an opulent world of the Prancing Horse as they welcomed the incredibly powerful new thoroughbred, the 488 GTB, into the Ferrari stable.
A live stallion, 'Eclipse', reared in front of the crowd to recreate the famous Ferrari Cavallino or prancing horse. Guests enjoyed the operatic tones of singer Emily Garth and a percussion set which accompanied the dramatic reveal of the car. Coloured in Grigio Silverstone, the Ferrari 488 GTB, was welcomed into the room by eager guests excited to see the car for the first time.
The Ferrari 488 GTB sets a new benchmark for the sports car sector. Forty years from the launch of Ferrari's iconic first-ever mid-rear-engined V8 berlinetta, the 308, the Ferrari 488 GTB opens a new chapter in the history of cars with this particular architecture which delivers optimal weight distribution for sporty, fun driving. A special gallery was created in the exclusive venue for this event, showcasing the great history behind the car, together with a display of the historic 308 GTB, 328 GTB, 348TS, F355, 360F1, F430, and 458 Italia.
"We are very excited to premiere this latest V8 model with our customers in Australasia. The 488 GTB celebrates 40 years of the Ferrari V8 mid-engine sports car. The car's impressive Ferrari V8 bloodline has resulted in an overwhelming response. We're thrilled that our customers have responded so well to the technology, power and design of this new car," commented Herbert Appleroth, CEO, Ferrari Australasia.
The 488 in the car's moniker indicates the engine's unitary displacement, while the GTB stands for Gran Turismo Berlinetta, a reference to its deep roots in Ferrari history.
Guests also enjoyed Veuve Clicquot Champagne, a Tuscan inspired menu by Pearl catering, whiskey and cigar bars, makeup touch ups, and shoe shine station.
Source: Ferrari