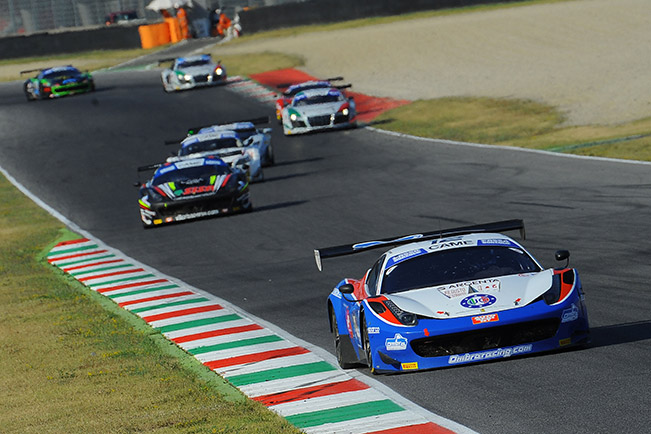 Eight drivers are on 11 points heading into the Italian GT Championship on Saturday and Sunday at the Marco Simoncelli Misano World Circuit, the penultimate round of the season. Ferrari has already clinched the constructors' title while the GT3 and GT-Cup drivers' championships are still up for grabs.
More Ferraris
There will be two more Ferraris at the start of the Adriatic stage, one of which involves the top of the standings. Indeed, Scuderia Baldini 27 Network has decided to double its crews to boost its chances of winning the title with one of the two members of the duo that took to the track in the first five rounds of the championship. At present Alex Frassineti and Matteo Beretta, of Ombra Racing Team top the table, three points ahead of Imperiale Racing's Lamborghini drivers, Mirko Bortolotti and Antonio Viberti. Another Ferrari team, Scuderia Villorba Corse, is one more point behind with Giovanni Berton and Niccolò Schirò. Lorenzo Casé and Stefano Gattuso of Scuderia Baldini are 11 points behind but as of this weekend their partnership is over. Reigning Italian champions Raffaele Giammaria and Casé will be back together, while Stefano Gattuso will share his 458 Italia with Matteo Malucelli.
The others
Several other Ferraris will be on track among the 33 crews taking part, starting with Scuderia Ombra which will field an extra car for Stefano Gai and Paolo Necchi. The Prancing Horse contingent will be completed by Di Amato-Mugelli (MP1 Corse), Magli-Ferrara (Easy Race), Galassi-Rizzuto (Team Malucelli) and Lucchini-Venturi (BMS-Scuderia Italia).
GT-Cup
Although not in the fight for the title, Ferrari crews will also be taking part in the GT Cup, with the 458 Challenge EVO of Del Prete-Caso (Scuderia Victoria) and Mancinelli-Goldstein, a crew that performed well in the Ferrari car in a number of races last season.
Programme
The schedule of the Romagna weekend includes two qualifying sessions on Saturday (from 9.55 am to 10.55 am CET) to be followed by Race 1 at 5.25 pm CET, while Race 2 will take place Sunday at 11 am CET. All races will be streamed live on our site www.acisportitalia.it/GT .
Source: Ferrari