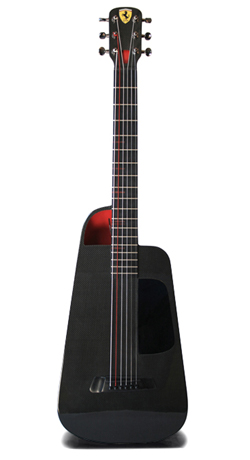 Lightweight. Compact. Exclusive. Carbon fiber construction. Red detailing. Built for the road. Beautiful sound. These are a few of the qualities listed on the special edition Blackbird Carbon Fiber guitar, but they could just as easily be talking about a Ferrari sportscar. And while the Prancing Horse marque has put its logo on everything from laptop computers to home gyms, here we give you the first Ferrari-branded musical instrument.
The Blackbird Rider Carbon Fiber Travel Guitar is the brainchild of Joe Luttwak, a designer who spent some time working for Ferrari in Maranello. The Ferrari edition is further distinguished by a red interior, a red A string and a Scuderia shield on the head. Although prices and production numbers weren't released, the model on which it's based sells for a whopping $1,499.
The entire run – each individually autographed by Felipe Massa and Kimi Raikkonen – sold out shortly after it went on sale in Ferrari Stores. Which may be unfortunate, but we'll just have to content ourselves listening to Ferrari exhaust notes instead.