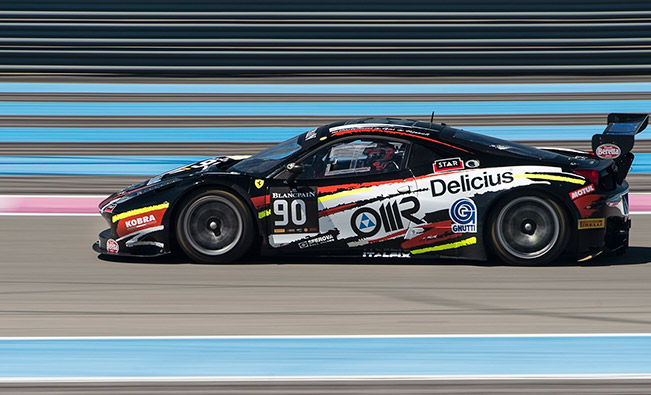 The Blancpain Endurance Series reaches its grand finale this weekend at the Nurburgring, with eleven Ferraris on track in two categories, where the Maranello marque and its drivers are in the running for the Drivers' and Teams's titles. As usual the field is split into three categories: Pro Cup, in which the favourite is the Belgian Laurens Vanthoor; the ProAm Cup and the Gentlemen Trophy. Ferraris compete in the latter two.
ProAm Cup. There's an unusual situation in the ProAm Cup, as Andrea Rizzoli and Stefano Gai, leaders along with team-mate Francesco Castellacci, will have to fight for the titile with a new third crew member, as Rizzoli has gone from being a Bronze driver to a Silver one. Joining them therefore will be Thomas Kemenater, in the number 90 458 Italia GT3 entered by Scuderia Villorba Corse, which has 12 points in hand over the Ecurie Ecosse BMW of Andrew Smith, Alasdair McCaig and Oliver Bryant.
Because of the change of line up at Scuderia Villorba Corse, Castellacci finds himself with AF Corse for this race, who in order to give him a shot at the title, are putting him in the 52 458 Italia GT3 alongside Marco Seefried and Johnny Laursen. The other Ferraris in this category are the Kessel Racing number 11 car (Broniszewski-Bonacini-Frezza); Insightracing with Flex-Box 17 car (Andersen-Jenson) and AF Corse 50 (Danyliw-Knap-Sonvico). In the Teams' battle, Scuderia Villorba Corse has a 14 point lead over Ecurie Ecosse.
Gentlemen Trophy. Five Ferraris are taking part in this category, where the title battle is a two-way fight between the Maranello cars. The favourites, who have a healthy lead are Peter Mann and Francisco Guede in the AF Corse 51 car which they share with Filipe Barreiros. Their only challengers are the Germans Alexander Mattschull and Frank Schmickler in the 458 Italia GT3 entered byGT Corse by Rinaldi. As this race at the 'Ring is a 6 hours affair, they will be joined by France's Pierre Ehret. AF Corse leads the Teams' table by 16 points from GT Corse by Rinaldi. There are four other Ferraris in this category.
The track. The event takes place on the modern iteration of the Nurburgring. At this one and the legendary 22 kilometres plus of the Nordschleife together, Ferrari has a long and successful history. In the covered wheel classes Ferrari has 19 outright wins here: the first dates back to 1953: Alberto Ascari and Giuseppe Farina in the first World Sports Car championship at the wheel of a 375 MM Vignale Spyder; the last was in 2013 coourtesy of Andrea Montermini and Luca Filippi in the GT Open race at the wheel of the 458 Italia GT3 entered by Scuderia Villorba Corse. Apart from the outright wins there are 23 class victories, a number which could see an increase on Sunday.
Source: Ferrari