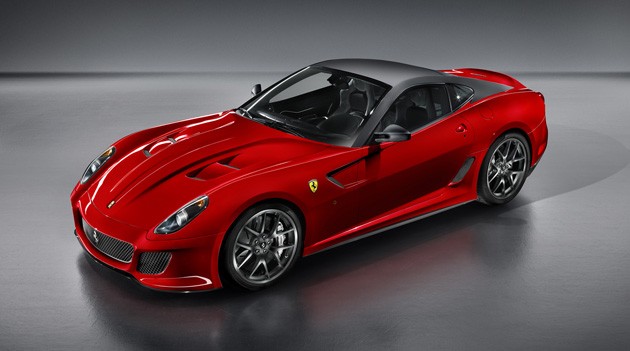 We've seen the spy shots. We've even seen the options list. Now Ferrari has official taken the wraps off its new performance benchmark, the 599 GTO.
Sort of a street-legal stepping point between the production 599 GTB Fiorano and the track-only 599XX, the 599 GTO evokes the famous Gran Turismo Omologato designation made famous by the legendary 250 GTO of the 1960s and the muscle-bound 288 GTO of the 1980s. That's quite a legacy to follow, so it's a good thing the 599 GTO brings the goods.
Output from the 6-liter V12 – itself derived from the Enzo's engine – is up from 612 horsepower to 661, with torque up a modest 9 lb-ft to 457. Coupled with a 195 kilogram 430 lb) weight reduction program – now tipping the scales at 1495 kg (3295 lbs), the leaner and meaner 599 can sprint to 62 miles per hour from a standstill in a scant (and very specific) 3.35 seconds, with a top speed in excess of 208 mph, while lapping the Fiorano test track from which its donor's name is derived in a blitzing 1 minute, 24 seconds. That's faster than the Enzo, people.
The GTO is also treated to more aerodynamic bodywork, including a new front splitter, side sills, diffuser and rear spoiler. The vented hood is new as well, as are the ten-spoke, 20-inch rims with F1-derived wheel donuts aiding aero efficiency.