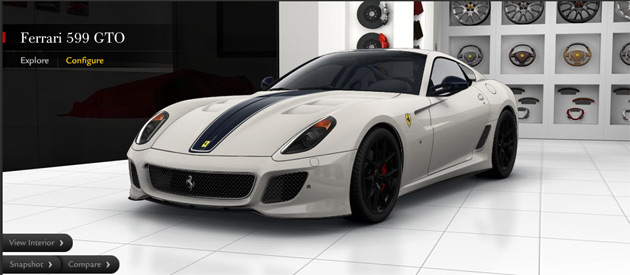 What do you get when you start with a 599 GTB Fiorano, lose 430 pounds, add 49 horsepower and import street-legal tech from the track-only 599XX? The sum of those many marvelous parts is the 599 GTO, the fastest road-going Ferrari in the automaker's legendary history.
The folks in Maranello unleashed it's king Horse to the public earlier this week before its official unveiling next month at the Beijing Motor Show, with the promise to build precisely 599 examples carrying the venerable GTO designation. The good news is Ferrari created a vehicle configurator that lets you customize your 599 GTO to your heart's content. The bad news: at an estimated $460,000, most of us couldn't afford it.
But still, it's fun to dream, and with the hundreds of available combinations you'll have plenty of time to play. Hues for the 50s and 60s are available, along with metallic finishes, and you can choose your own seat type (racing buckets come in small, medium and large), steering wheel type, a host of available carbon fiber accents, over a dozen different interior stitching options and plenty more.