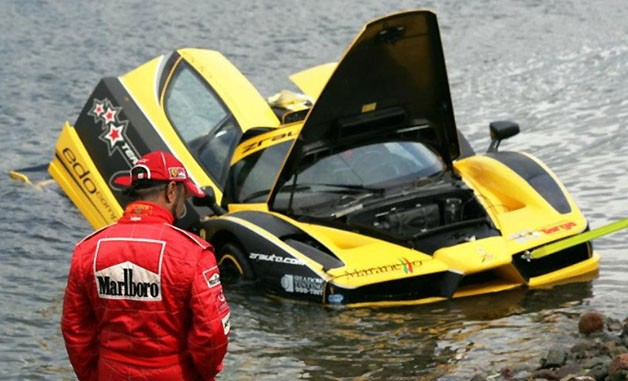 Newfoundland is a bit of a funny place. It's the easternmost point of the North American continent, has its own half time zone, was the last province to join Canadian confederation (having existed as a British colony until 1949) and has its own linguistic dialects. It's also the kind of place where you can fail upwards, it seems. Particularly when driving a customized Ferrari Enzo.
You may recall the story of one Zahir Rana, a Kenyan-born exotic car dealer and enthusiast based in Calgary, Alberta, who took his Edo-modified Enzo to the 2011 Targa Newfoundland rally and promptly drove it right off the road and into a tidal river on the Atlantic coast. (If you missed the story, you can watch the video footage right here after the jump.) Some $100,000 in damage was reportedly caused to the million-dollar supercar – though we wouldn't be surprised it the final figure were substantially more – but that hasn't deterred Rana, or his friends, from returning.
Having lived to tell the tale of his epic crash, Rana has had his Enzo's engine further tuned to 950 horsepower, and is reportedly planning to bring it back for the 2012 Targa Newfoundland… along with 20 of the friends and clients he has amassed from over a decade in the business. Which strikes us as a particularly headstrong and determined way to get back on the prancing horse, so long as this year's rally goes a little more smoothly for Team ZR Exotics.