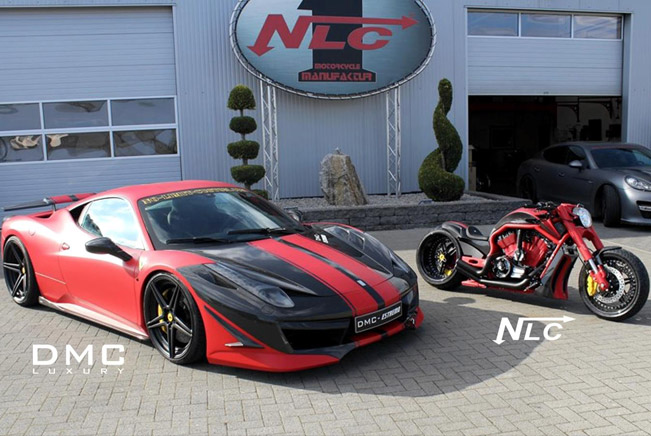 DMC and No-Limit-Custom will is going to present Ferrrari 458 Italia Estremo and a a bespoke motorcycle from at the 2014 Top Marques Monaco.
The unique twin bike has the same red and black theme as the Ferrari and yellow brake calipers. DMC Estremo comes with incredible styling and additional performance upgrade.
DMC 458 Estremo is powered by a 4.5 liter naturally aspirated V8 with 592HP (435 kW) – an increase of 22HP (18 kW). The ride height is lowered with a new sports suspension. Other highlights include a new ventilated hood, 20" and 21" alloy wheels fitted with performance tires, carbon fiber front fascia, a new rear wing and aerodynamics side skirts. All components are made exclusively from carbon fiber, which reflects to the vehicle's curb weight – minus 50 to 80 kg (110 to 176 lbs).
Every third customer who wants to modify his (or hers) Ferrari 458 Italia will get the "Gold Edition" fitted with F1-style canards and a bespoke owner plate signed by the car's designer.