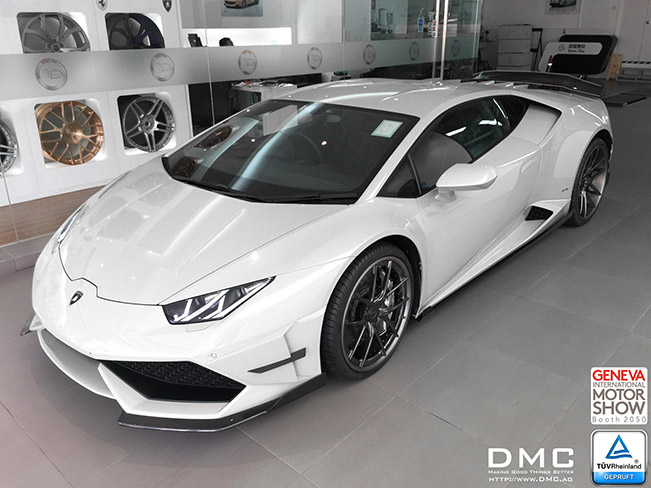 Quality has always been a top priority for luxury refiner DMC. They made themselves a name with styling packages for Lamborghini and other sport cars that have set industry standards. Marketing aside, the TUV in Germany has now tested DMC's carbon fiber and found that it is safe and extremely strong.
TUVs are German organizations that work to validate the safety of products of all kinds to protect humans and the environment against hazards. They received 30 samples from DMC and set to destroy them all to test quality, integrity and strength. Why is that so important you may ask?
Let's take DMC's stying package for the Huracan as an example. The rear wing comes with an additional base spoiler under it. One advantage is that you won't need to drill holes into your car, but there is another, more crucial fact: If you would install any after-market wing on the regular Huracan base spoiler, it would likely rip off at high speeds. The material of the original part is light but also brittle, it was simply not made for the pressure of an additional wing on top. DMC's base spoiler is not simply copied from the original but redesigned and enforced on the inside.
All DMC items are made of pure carbon fiber, and can be installed without visibly damaging the Huracan. They either exchange for the OEM parts, or conveniently add-on, which guarantees that the car can be brought back to its original state of art, at any time.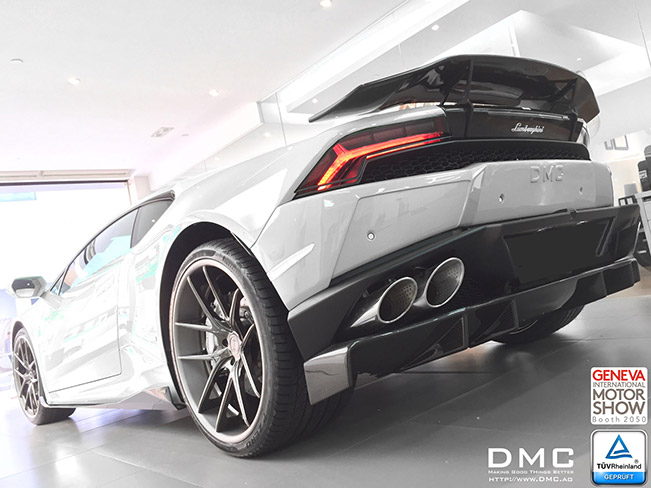 Potential owners, fans and of course the respected press, have got the chance to see the DMC Huracan in its now TUV approved beauty: The company will exhibit in March on the world famous Geneva Motor Show, from 5th to 15th, on booth number 2050 located besides Koenigsegg and Pagani.
DMC will also show their new rims which come in a  20″/21″ setup, and are the widest sets in the market so far. The front has got a technical set up of 20×8,5J wile the rear then showcases specs of 21x12J. Enthusiasts may foresee that DMC will be using a 245/30r20 / 325/25r21 tyre combination but a softer P-Zero application is possible as well.
The total car is finalised with exclusive interior refinements using italian fine leathers and carbon finer. Plenty of buttons and trims are available as a small package, a redesigned steering wheel adds on to complete a medium package or the whole interior can be redone for the VIP package.
Source: DMC