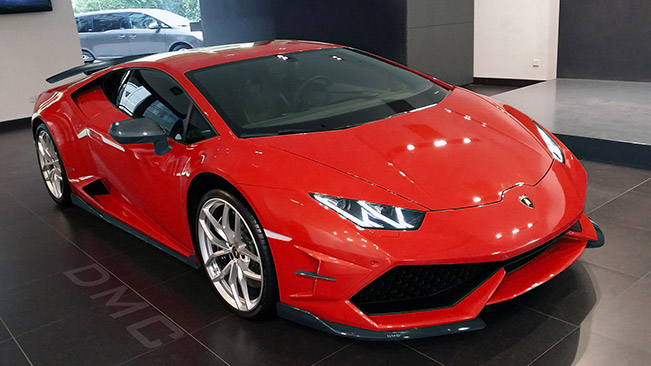 DMC's upcoming LP630 Huracán is coming together step by step. The project is due to be unveiled soon, and the company has just released another set of teasers. The design shown below gives us a pretty good idea of what the actual car is going to look like when being launched shortly:
The Huracán "AFFARI" is Italian for an "affair" – one most of us certainly wouldn't mind to have. DMC also noted that the internal project code is listed as "STAGE-H1", a reference to their breath-taking 3 Aventador kits the company has spoilt us with over the past few years. Does it mean we'll also be getting a wilder version later on?
But first things first: The secret images show us, that the "AFFARI" will receive a significant number of aero components. Styled to suit the the bull from Sant'Agata, the items support an improved road-thrive: The front bumper has received stunning tunnels which seem to be sliced by aggressive center swords. It also features a set of elegant front lips for additional down-force and greater looks. The added side-skirts not only render a unique appearance, but play an important aero role as well. On the rear we see a new rear wing, a base spoiler and a re-designed diffuser set-up.
If you have followed DMC over the past few years, you know that they developed a sick desire to use carbon fiber for all their creations. As a matter of fact, pure and dry carbon fiber is DMC's favorite choice of material when it comes to refining super cars. On this beast, most parts are add-on, while some others (like the side-mirror casings) are replacing the original units.
Since the "AFFARI" will receive a stronger ECU programming, a new set of forged alloy wheels will keep the beast secure on the roads: The propeller design comes in a  20″/21″ setup, and adds the look of a wild animal preying for it's victim. The front will get a technical set up of 20×8,5J wile the rear then showcases specs of 21x12J. Enthusiasts may foresee that DMC will be using a 245/30r20 / 325/25r21 combination, details would be shown in the next email.
Stay "tuned" for photos of our install process and the final launch to come very soon. HD Quality pictures (1920×1080) are available on our Flickr page, and print resolution can be requested by contacting us direct.
Source: DMC