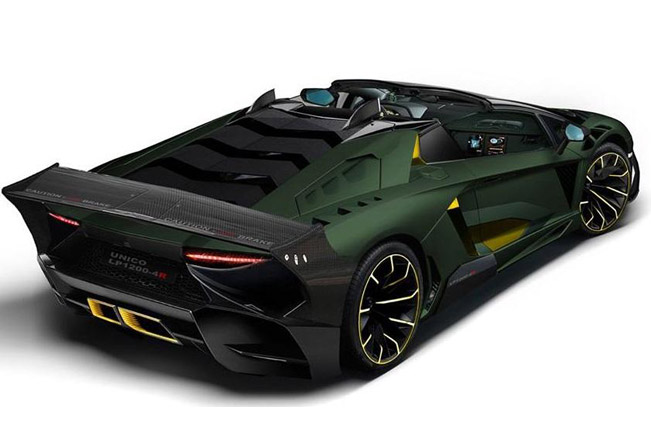 DMC published a teaser image of a tuned Lamborghini Aventador LP1200-4R Concept. The hyper car will have 1,200HP and will accelerate as fast as a lightning bolt. The price is going to be sensational, too.
The 6.5 liter V12 will get two turbochargers – 1,200HP (882 kW) and there will be variants for 1,500HP (1,103 kW) or epic 2,000HP (1,471 kW). We have already seen tuned Lamborghini Gallardo with over 2,000HP, so it isn't impossible at all. Lamborghini Aventador LP1200-4R Concept will accelerate 0-100 km/h in 2.3 seconds and the top speed is over 375 km/h (233 mph).
Other upgrades will be entirely different body panels providing a more aggressive appearance with beefier air intakes, more air vents, an adjustable fin air brake system. There are also 20" front and 21" rear wheels, an adaptive ride height and gold-plated intakes. The curb weight will be just 1,575 kg (3,470 lbs).
The price for the most powerful version with complete tuning package will be around $2,500,000.