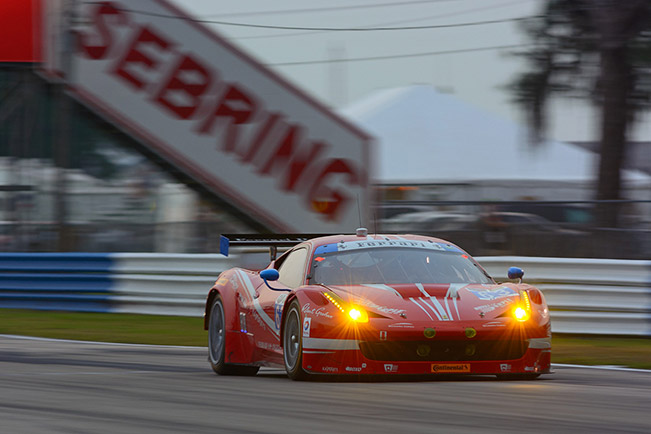 GT-Le Mans. Narrowly missing on the team's fourth victory at Sebring was the no. 62 Risi Competizione Ferrari 458 Italia. The Ferrari, shared by former Scuderia Ferrari driver Giancarlo Fisichella, Pierre Kaffer, and Andrea Bertolini, stayed in contention for the GT-LeMans victory throughout a long day of close competition in which seven cars battled on the lead lap throughout most of the race. Kaffer guided the Ferrari to the checkered flag in second position behind the Chevrolet of the championship leaders Antonio Garcia, Jan Magnussen and Ryan Briscoe.
GT-Daytona. Reliability and teamwork enabled the no. 63 Scuderia Corsa Ferrari 458 Italia, which started in twelfth position, to make a dramatic run through the GT-Daytona field. Making the most of the balance and the reliability of the Ferrari 458 Italia, the all-American driver lineup of Bill Sweedler, Townsend Bell and Anthony Lazzaro advanced from their twelfth starting position to finish in third place. The no. 49 AF Corse Ferrari 458 Italia driven by Rui Aguas, Marco Cioci, Piergiuseppe Perazzini, and Enzo Potolicchio finished in tenth position. The class winner was the no. 23 Porsche of Ian James, Mario Farnbacher and Alex Riberas. Second place went to Christina Nielsen, James Davison and Brandon Davis on the Aston Martin.
Ferrari still leader. The overall win went to Christian Fittipaldi, Joao Barbosa and Sebastien Bourdais in the Chevrolet. After the 12 Hours of Sebring Ferrari remains in the lead of the GT-Daytona manufacturer standings for the North American Endurance Cup, the endurance championship made up of Daytona 24 Hours, 12 Hours of Sebring, Six Hours of the Glen and Petit LeMans. The next round of the IMSA championship will be April 18 on the street circuit in Long Beach, California. The 100-minute race will be broadcast on Sunday, April 19 on FOX Sports 1 at 4:00 PM ET (9 PM CET).
Source: Ferrari