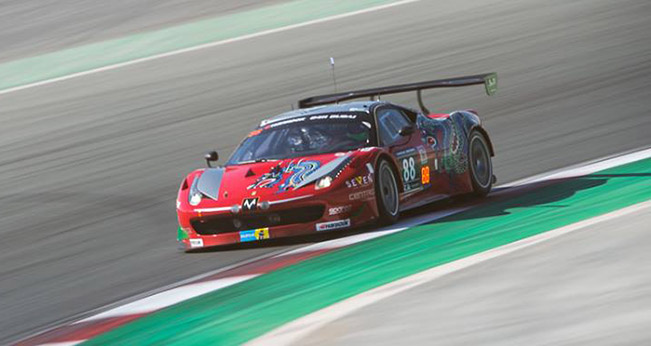 Ferrari's 2015 season has got off to the best possible start. The first race of the year, the Dubai 24 Hours, which ended today at the Emirati track, concluded with a win, courtesy of Dragon Racing and its number 88 458 Italia GT3. It took victory in the A6 Am class, driven by Saudi Mohammed Jawa, South Africa's Jordan Gregor, British driver Rob Barff and the hard charging Irishman Matt Griffin. The quartet totally dominated proceedings, finishing a massive distance ahead of the number 23 Nissan, crewed by Florian Strauss, Ricardo Sanchez, Ahmed bin Khanen and Gaetan Paletou. Third was the 99 Porsche of Attempto Racing, driven by Arkim Aka, Andreas Lihem, Bernd Kleinbach, Philipp Wlazik and Bill Barazetti. The Dragon Racing car came home third overall and was never challenged, also setting the race fastest lap.
Just off the podium.
Unfortunately, in the AC Pro class, the Scuderia Praha 458 Italia GT3 just missed out on a podium. Having started from the back of the grid because of a problem during qualifying, the number 4 car crewed by Matteo Malucelli, Peter Kox, Jiri Pisarik and Jaromis Jirik, gradually moved up the order, even getting as high as third at one point. They finished fourth, behind the two Mercedes of the Black Falcon team, which won outright with Abdoulaziz Al Faisal, Hubert Haupt, Yelmer Buurman and Oliver Webb and the RAM Racing car, while the Aston Martin of KPM Racing 1 was third.
Unlucky. The best placed 458 Italia on the grid, the number 15 car entered by Glorax Racing, didn't even make the start. The car was involved in an accident before the start, with STP Racing's 62 Porsche. It was a great disappointment for Per Andrey Alexandrovich, Rino Mastronardi, Gabriele Lancieri, Dimitri Deverikos and Isaac Tutumlu. The Dubai 24 Hours is part of the 24H Series championship, which will be back in action at the start of March when it's time for the Mugello 12 Hours.
Source: Ferrari