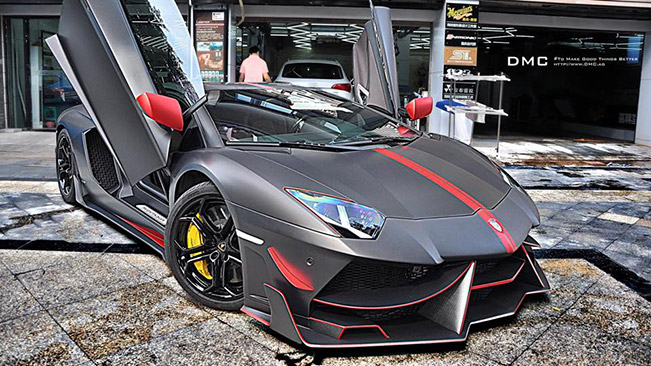 A third example of the limited edition DMC Aventador Edizione-GT has arrived in China in an exquisite Rosso/Nero paint job. The unique EGT is currently the sickest tuning kit available for the Italian super car both in terms of power and styling.
On the styling front, DMC Aventador Edizione-GT features a massive body kit which is in fact the evolution of DMC's previous programs including the Molto Veloce and the Spezial. It includes one of a kind front and rear bumpers, side skirts, rear spoiler, and many little details like the winglets at the front and the super cool carbon inserts at the back.
This particular EGT features a Rosso red stripe on its Nero body plus red accents on the aero parts, side sills, and mirrors. And it looks rather amazing because of them. The wheels look surprisingly sober for a body kit like this, what with their simple design and gloss black finish.
DMC Edizione-GT can be ordered with the tuner's performance upgrade kit including a twin-turbo package for the V12 engine complete with ECU and exhaust modification, good for a staggering 988 horsepower. Total cost of the EGT package is $288,888 excluding the base car!
Source: www.motorward.com