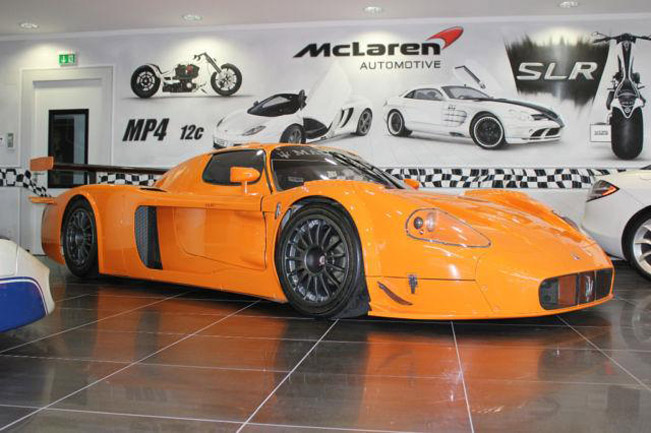 An Edo Competition Maserati MC12 Corsa is up for sale in Germany. The price asked for the super-sports car is no less than €1,395,000. We should mention that this particular car has clocked only 500 km (310 miles), which makes it practically brand new.
The engine is a 6.0 liter V12 with 765 HP (570 kW) and 740 Nm (546 lb-ft). The car has a curb weight of 1,150 kg and a power-to-weight ratio of 1.5 kg / hp.
Edo competition fitted a special suspension system manufactured by KW. The independently adjustable compression and rebound damping permits truly individual suspension setups. The unique system, with its three different adjustments, allows for low-speed compression damping characteristics to be altered while the high-speed settings, having a strong influence on ride-quality, remain constant. Additionally the nose lift function available on the regular MC12 is carried over to avoid front and underbody damage.
The sports exhaust system with electronically controlled butterfly valves provides visual cues to the MC12 Corsa's power thanks to dual exhaust tips, each with a diameter of 100 mm (4 in). The muffler and exhaust tips are made from durable V2A stainless steel. A remote control to adjust the sound intensity has been installed.
There is also a ceramic composite high-performance brake system with 396 mm rotors in the front and 360 mm rotors in the rear along with special brake pads at both ends.
Last, but not least are the huge OZ Racing alloy wheels – 10J x 19" at the front and on the rear axle of size 13J x 20". The wheels employed by edo competition are shod with 265/35 ZR19 (front) and 335/30 ZR20 (rear) tires.
Source: GTSpirit