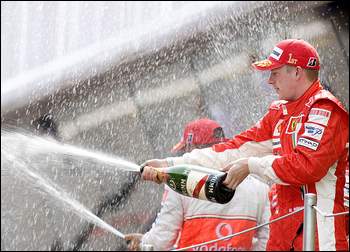 Defending world Champion Kimi Raikkonen scored his second win of the season with a dominant performance in the Spanish Grand Prix at Barcelona, leading all the way and leaving teammate and likely title rival Felipe Massa trailing in his wake.
The big story of the afternoon was a heavy crash by McLaren-Mercedes' Heikki Kovalainen. Just before his first pit stop, the Finn suffered a right front tire puncture at the high speed turn nine, possibly the result of suspension failure. The car speared across the gravel and buried itself below the tire wall, in a similar fashion to Michael Schumacher's accident at Silverstone in 1999.
The car had to be pulled out by a tractor before the driver could be extricated. Thankfully a thumbs up to the TV cameras indicated that he was OK. Later it was confirmed that he'd received a bang on the head, and he was taken to a nearby hospital for observation.
Barcelona rarely produces an exciting race, and indeed this was the eighth time in succession that the race has been won by the man on pole. While there were few changes of position, it was close at the front.
Raikkonen beat fellow front-row starter Fernando Alonso off the line, while Massa also outran Alonso. Despite having one less lap worth of fuel, Massa wasn't able to make any impression on his teammate. A length safety car period caused by Kovalainen's accident closed up the field, and after it Raikkonen was only able to open up a gap of around 3 seconds on Massa.
Alonso held onto third place until he suffered a spectacular engine failure after 34 laps. That moved Lewis Hamilton up, and in the final stint the McLaren man pushed Massa hard, while BMW Sauber's Robert Kubica also kept Hamilton on his toes. The fact that the top four were separated by just 5.6 seconds at the end showed just how close the competition is at the front.
Mark Webber took more points for Red Bull with fifth, ahead of Honda's Jenson Button, Williams' Kazuki Nakajima and Toyota's Jarno Trulli. BMW's Nick Heidfeld suffered a 10 second stop and go penalty after being caught out when the safety car came out just before his scheduled stop, finding himself with no option but to pit to refuel. Also out of luck was Williams' Nico Rosberg, who had an engine failure, and Scuderia Toro Rosso driver Sebastien Bourdais, who was hit by Williams' Nelson Piquet Jr. in an incident that eliminated both drivers.
SPANISH GRAND PRIX RESULTS
1. Kimi Raikkonen, Ferrari
2. Felipe Massa, Ferrari
3. Lewis Hamilton, McLaren-Mercedes
4. Robert Kubica, BMW Sauber
5. Mark Webber, Red Bull-Renault
6. Jenson Button, Honda
7. Kazuki Nakajima, Williams-Toyota
8. Jarno Trulli, Toyota
9. Nick Heidfeld, BMW Sauber
10. Giancarlo Fisichella, Force India-Ferrari
11. Timo Glock, Toyota
12. David Coulthard, Red Bull-Renault
13. Takuma Sato, Super Aguri-Honda
14. Nico Rosberg, Williams-Toyota
15. Fernando Alonso, Renault
16. Rubens Barrichello, Honda
17. Heikiki Kovalainen, McLaren-Mercedes
18. Anthony Davidson, Super Aguri-Honda
19. Sebastien Bourdais, Scuderia Toro Rosso-Ferrari
20. Nelson Piquet Jr., Renault
21. Sebastien Vettel, Scuderia Toro Rosso-Ferrari
22. Adrian Sutil, Force India-Ferrari
DRIVERS' CHAMPIONSHIP STANDINGS
1. Raikkonen, 29
2. Hamilton, 20
3. Kubica, 19
4. Massa, 18
5. Heidfeld, 16
6. Kovalainen, 14
7. Trulli, 9
8. Webber, 8
9. Rosberg, 7
10. Alonso, 6
11. Nakajima, 5
12. Button, 3
13. Bourdais, 2