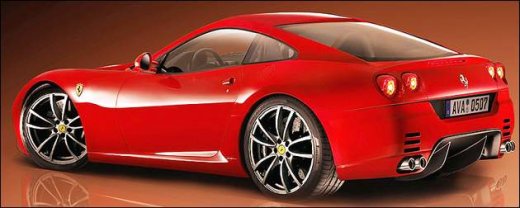 Despite months of angry denials, sources insist that Ferrari will launch its new entry-level 2+2 coupe before the end of this year.
Word is that the new car, which Ferrari plans to debut at the Paris motor show in October, has a target price less than the F430's $190,000. A name for the new front-engined car is still anyone's guess. California, Dino and Piccolina ("little one") are possibilities for what is now called the F149 inside Ferrari. Ferrari hasn't even
confirmed the car's existence, much less verified its name, and there are no guarantees that it will ever wear a Ferrari badge (the Dino never did), which would make Ferrari's denials technically correct.
Regardless of its moniker, the new car will break two important pieces of new ground for Ferrari, with a direct-fuel-injection engine and a folding steel hardtop roof designed and built by Pininfarina.
Ferrari has tested the F149 in and around the Maranello factory with almost complete immunity from spy photographers, because most have been fooled by its disguise
as a Maserati GranTurismo convertible. The F149 will be based on heavily modified GranTurismo architecture, which means the big Maserati coupe has provided the
perfect cover for Ferrari's most important debutante.
The new direct-injection engine, codenamed F136Y, will have a capacity of about 4.3 liters but will owe little more than its engine block to the existing F430's high-revving V8. Sources say it will have all-new injection rails, new intakes, new cylinder heads and new valvetrains and will debut a type of throttle body never used before. Direct injection will bring an instant fuel-efficiency increase of between 5 and 8 percent, and an all-new gearbox will provide additional gains.
The new Ferrari will spearhead the Italian brand's push toward 10,000 cars a year.
It will be assembled on a refurbished Maranello production line with less in-house manufacturing than ever before and will be expected to contribute about 4000 sales a year almost immediately. Ferrari's current volume is more than 6000 cars a year, three-quarters of which are F430 V8s.
The folding steel hardtop will make it a Ferrari for all seasons, with Pininfarina using the F149 to demonstrate new lightweight technology with shorter folded roof sections to minimize trunk length. This move means close collaboration with Pininfarina (and Magna Steyr), and there is speculation that a massive proportion of the car actually could be built at Pininfarina's assembly plant rather than in Maranello.