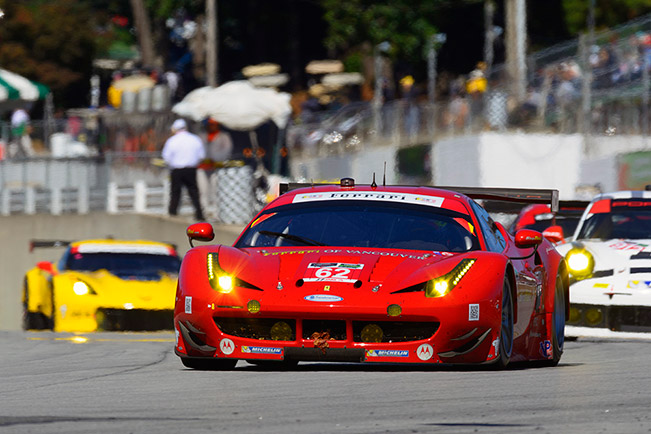 Ferrari has enjoyed unparalleled success on the bumpy airways of Sebring International Raceway in Sebring, Florida. The world-famous twelve hour race saw a Ferrari visit victory lane for the first time in 1953, with 32 additional overall and class victories coming in the years since. Some of Ferrari's most famous models, such as the 250 Testa Rossa, 250 GTO, 250LM, 512, and 333SP have represented Maranello in Sebring's victory lane. Three Ferrari 458 Italias will seek to put Ferrari back in victory lane at this weekend's Twelve Hours of Sebring.
GT-Le Mans. The Risi Competizione team has enjoyed much success in Sebring, with three class victories (2007, 2009, 2010). Giuseppe Risi's team contended for the lead in the GT-LeMans class during the 24 Hours of Daytona in January before retiring during the overnight hours. Drivers Pierre Kaffer – who drove the Risi Competizione Ferrari to the victory in 2009 and 2010 – and former Scuderia Ferrari Formula 1 driver Giancarlo Fisichella will be joined by Andrea Bertolini.
GT-Daytona. Scuderia Corsa also contended for victory throughout most of the 24 Hours of Daytona in the GT-Daytona class before being slowed in the final few hours. For Sebring, full-season drivers of the no. 63 Scuderia Corsa Ferrari 458 Italia Bill Sweedler and Townsend Bell will be joined by Anthony Lazzaro to form an all-American driver lineup. Sweedler and Bell narrowly missed victory at Sebring last year as the drove to second place in a Ferrari 458 Italia. Ferrari currently leads the North American Endurance Cup in the GT-Daytona class, while Scuderia Corsa's no. 63 Ferrari 458 Italia is second in the NAEC standings in the GT-Daytona class. Also competing in the GT-Daytona class will be the no. 49 AF Corse Ferrari 458 Italia which will be driven by Piergiuseppe Perazzini, Marco Cioci, Rui Aguas, and Enzo Potolicchio.
Source: Ferrari