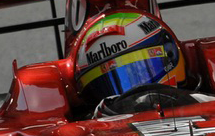 Felipe Massa lost what would have been a dominant win in the Hungarian Grand Prix when his engine expired with three laps to go. So, when teammate Kimi Raikkonen's engine did the same in the late stages of the European GP in Valencia, Spain, all sorts of thoughts must have gone through Massa's mind. Yet his Ferrari ran faultlessly from flag to flag, and he took his fourth win of the season.
Six races remain in the 2008 campaign, and the world championship fight distills increasingly to a two-man battle between Massa and Lewis Hamilton, though the McLaren-Mercedes driver had nothing for Ferrari on this occasion. Instead, Hamilton finished second and held on to his points lead, now only six ahead of Massa.
Hamilton clearly could not quite match the Ferrari's pace, and Maranello now appears to have the upper hand in terms of pure speed. McLaren CEO Martin Whitmarsh said that significant aerodynamic updates are on the way for the next two races–at the ultraquick Spa and Monza circuits–and they will need to be good.
However, only one Ferrari appears to be a serious threat, for world champion Kimi Raikkonen had another lackluster weekend. He qualified only fourth after making mistakes when it mattered, dropped a place to McLaren's Heikki Kovalainen at the start, and thereafter made little impression until his late-race retirement.
BMW-Sauber's Robert Kubica drove beautifully once again, finishing where he qualified, third, but his team has lost ground to Ferrari and McLaren in the last two or three months. Kubica did well to finish ahead of Kovalainen, but he trailed Massa and Hamilton by almost 40 seconds.
Toyota had a very positive weekend, as Jarno Trulli finished fifth and Timo Glock was seventh, sandwiching the Scuderia Toro Rosso of Sebastian Vettel, who was one of the stars in qualifying. Nico Rosberg's Williams-Toyota took the final championship point.
Formula One has become accustomed to new venues in recent years, but a new one in Europe is a different matter. For some years, the permanent circuit outside Valencia has hosted a MotoGP round, and quite frequently–thanks to the climate–F1 teams have used it for winter testing. At no stage, though, was the tight and fiddly track considered for a Grand Prix, but Valencia, host of both the last and the next America's Cup (and bidding to become its natural home), is very much a happening city and proved amenable to Bernie Ecclestone's suggestion of a street circuit for a second Grand Prix in Spain.
Such a thing would have been unthinkable a few years ago, for Spain was never a country with much taste for F1, its focus always on motorcycle racing. But the success of Spain's Fernando Alonso transformed Spanish interest in F1 to the point of obsession. Were it not for Alonso, a Valencia race would never have been contemplated.
Alonso was much affected by the airplane crash at Madrid's Barajas airport on Aug. 20 that claimed the lives of more than 150 people. At the circuit, Alonso asked for a minute of silence in memory of those who died. He also had stickers made up depicting the national flag and requested that every Grand Prix driver wear one on his helmet, which they all very willingly did.
Once the track opened for practice on Friday, the first man really to get moving was Scuderia Toro Rosso's Sebastien Bourdais, and perhaps that was no surprise. He is very familiar with street circuits after four seasons in Champ Car, and the concept of concrete barriers and blind corners is hardly alien to him.
Bourdais's first season in F1 has hardly gone as he would have wished, for he has been routinely outpaced by the precocious Vettel. But he looked at home on the Valencia streets, and although his teammate again outqualified him, both STR drivers were in the top 10–and way quicker than the supposed A-team, Red Bull Racing. Given that the STR and RBR chassis are as good as identical, Red Bull's Mark Webber pointed out that STR's superiority must come from its Ferrari, rather than Renault, horsepower.
In the second qualifying session, Vettel actually set the fastest lap of the entire weekend, 1 minute, 37.842 seconds, and you had to tip your cap to McLaren's simulation techniques, which had predicted a lap time of . . . 1minute, 37 seconds.
In qualifying's all-important final knockout session, though, Vettel was only sixth-fastest, beaten by the heavy hitters: Massa, Hamilton, Kubica, Raikkonen and Kovalainen. Massa again looked more convincing than Raikkonen, who admitted to mistakes on his crucial runs and said he had simply not been fast enough. Hamilton said he was quite happy with the job he and McLaren had done; most of all, he was relieved that a severe headache brought on by a bout of flu had subsided, along with a muscle spasm in his neck.
Alonso was the most disappointed man by far after qualifying. The local hero invariably produces something for his home crowd, and he had set Friday's second-fastest practice time. But in his efforts to force the Renault to go faster than it cared to, Alonso made mistakes here and there and failed to make it into the final session. Twelfth was not where he had expected his Grand Prix to begin, but his fans were not deterred: 115,000 showed up on race day.
They were in for more disappointment. As the cars flashed by the pits at the end of lap one, there was no sign of Alonso. Eventually, the Renault drove slowly into sight, minus its rear wing, and headed into its pit to retire.
In pit lane, too, was Kazuki Nakajima's Williams, minus its front wing, so it was not too difficult to piece together what happened.
"I was hit by Nakajima," said Alonso, "and that was that. I'm very disappointed, because I was hoping to have a special race for all the people who came here to support me. Now I have to concentrate on Spa."
The grandstands began to empty long before the race ended, and Alonso's early disappearance obviously played a part in this.
By no means, though, was that the whole story, for the sad fact is that the European Grand Prix was one of the most uneventful, processional races in recent F1 history. The cars spread out from the start, as if taking part in some sort of high-speed parade. The verdict on this inaugural Valencia event: Great venue, awful race.
Massa didn't think so, though. His afternoon was wonderful, marred only by a moment in the pit lane when Ferrari's lollipop man waved him out too early, and he almost ran into Adrian Sutil's Force India, which was passing by.
Soon afterward, the stewards announced that they would investigate the incident after the race, but Massa kept his win–and received a reprimand and a e10,000 (almost $15,000) fine. It was a heavy price to pay, perhaps, but one the Brazilian would no doubt pay at every race if he could guarantee himself similar results.