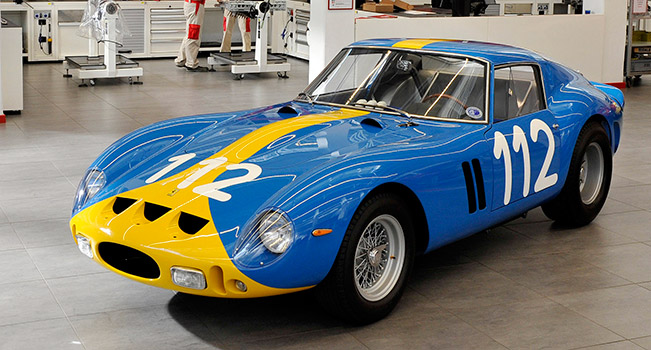 One of the stars of the tracks of the 1960s was a Ferrari 250 GTO which has just emerged from a two-year-plus renovation at the Ferrari Classiche department, ready to return to its owner in America. During its stay in Maranello, the car was restored to the original engine and bodywork configuration in which it was delivered to Bologna-based publisher Luciano Conti in 1962. The latter also drove it in its maiden race, the Bologna-Passo della Raticosa.
In June 1962, however, Chassis no. 3445 was sold to Count Giovanni Volpi di Misurata, a passionate racing driver, who competed under the S.S.S. Repubblica di Venezia insignia. During this particular stage of its career, the car also won the Trophée d'Auvergne with Carlo Maria Abate at its wheel.
In April 1963, the 250 GTO was purchased by Swede Ulf Norinder who, to comply with the racing regulations of the day, changed its livery from the original red to blue and yellow colours of Sweden. Mr Norinder then drove it to victory in the Vastkustloppet in his home nation. The car also finished second twice in the Targa Florio (with Bordeu and Scarlatti in 1963, and 1964 with Norinder and Pico Troiberg, the latter time as no. 112 which it still bears today). It subsequently changed hands several times before being sent to the Classiche department in 2012 to be restored to its original splendour. That process now complete, the 250 GTO once again sports the Swedish colours and is back with its owner.
Source: Ferrari