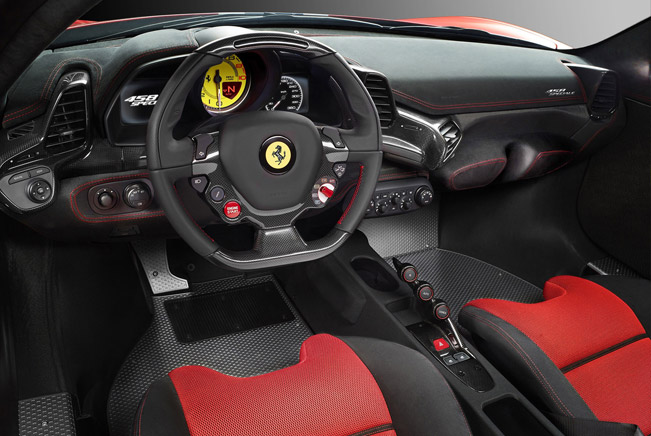 Autoexpress has published a nice video with a review of the superfast Ferrari 458 Speciale.
The Ferrari 458 Speciale is the most aerodynamically efficient range production car in brand's history. The result is thanks to the front and rear movable aerodynamics guaranteeing downforce balance and drag cut.
Other innovative technologies include Side Slip angle Control system (SSC). The latter makes it easier to achieve car control and enhances the driving emotions. In fact, SSC performs instant-to-instant analysis of the car's side slip. First it compares it with the target value and then maximizes both torque management and torque distribution between the two wheels.
Another highlight is that the model is fitted with Michelin Pilot Sport Cup2 tyres which acted perfectly in the numerous track test and simulator sessions. They not only improve performance, but also allow the car to avail of maximum available grip in the wet.
The 458 Speciale is powered by an upgraded 4.5 liter naturally aspirated V8 engine – 605HP (445 kW) and 540Nm (398 lb-ft) of torque. This is an increase of 35HP over the normal version. The engine is mated to an improved dual-clutch transmission. 0-100 km/h in 3.0 seconds and a top speed of over 330 km/h (205 mph). A lap around Fiorano in 1 minute and 23.5 seconds.
Source: Autoexpress via Youtube