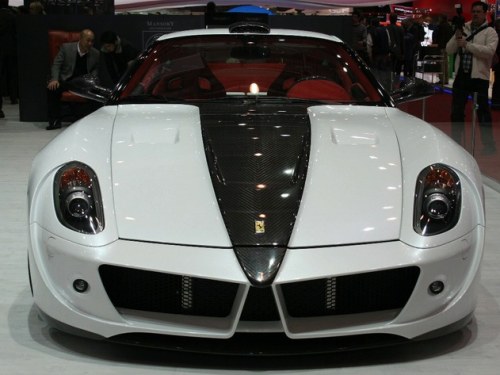 Geneva is piling on the glitz at this years 2008 motorshow. Not to be outdone by the automotive giants of this world, smaller bespoke coachbuilders and tuners are also vying for the spotlight.
Conducting what most would think as the impossible, Mansory have long been famed for taking the most prestigious brands in the industry and making them even more prestigious. Marques such as Aston Martin, Bentley and Rolls Royce have often received the Mansory treatment. However, this time the Bavarian customiser has turned its attention to the prancing horse from Maranello. Using the Ferrari 599 GTB Fiorano as a base is always going to give you a big advantage from the start.
In summary, Mansory have included some lightweight carbon fibre body panels, modified the interior with an exotic birds hide and more importantly tweaked the engine to make what they call the "Mansory Stallone".
The carbon fibre modifications are mainly reserved for the downforce enhancing body kit which comprises of a newly designed nose piece (with intercooler apertures, yes this thing is forced induced!) and an integrated rear diffuser. There are also a side skirts and wheel arches but these are more aesthetic.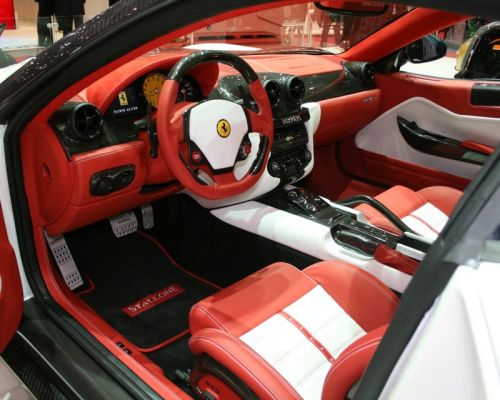 As for the interior, Mansory may have an industry first. The interior is coated in swathes of leather, but the leather is not from a Cow but an Ostrich. There are no interior shots as such, but from the images here we can see that Mansory must have at least plucked the Ostriches before covering the seats. We have never seen a red Ostrich either so it safe to say that the hide has been dyed.
Now for the oily bits. Although this beast appears to be all glamour, a peak under the bonnet would reveal that there is also a degree of substance to the transformation. Lurking within is the glorious 6.0L V12 which can trace its origins to the Enzo, however in this application the Mansory Stallone gains a supercharger which lifts the power output from a not unsubstantial 620hp to a fairly adequate 720hp.
100kph is achieved in 3.7 seconds (a 0.2 sec improvement) and it wont stop pulling until you are over 340kph.