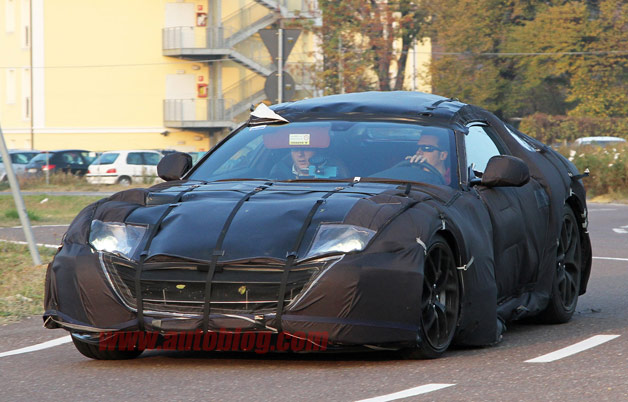 Now that Ferrari has launched the FF as the official replacement of the 612 Scaglietti, it's time for the Italian automaker to wrap up development of the successor to the 599. While we previously spotted this car's replacement undergoing development in a California shell, what you see here are the first photos that actually give a glimpse of the new car's shape, camouflaged as it may be.
The 599 successor – rumored to be dubbed F620 – will likely be powered by Ferrari's 6.3-liter V12, churning out over 700 horsepower. Unlike the all-wheel-drive FF, the 599 replacement will continue to use rear-wheel drive, sending its power to the back wheels via a seven-speed dual-clutch transmission with an F1-style electronic differential.
Our sources suggest that the F620 will be much lighter than the outgoing 599, due in part to a larger usage of aluminum in the body construction. As for design, it's safe to assume that the coupe will take a large influence from the 458 Italia, with some cues from the FF thrown in for good measure. Then again, it's a Ferrari, so we doubt the finished product will be anything but stunning.
Expect to see more of the F620 as it continues its development testing over the next few months. If things move along at a steady pace, we could see the production car debut as early as the Geneva Motor Show in March.