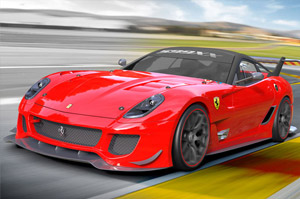 The Ferrari 599XX Evolution was presented at the 2011 Bologna Motor Show. The Evolution package for the 599XX consists of some performance and aerodynamics upgrades.
The performance is improved by adding a new side exhaust pipes delivering additional 20PS (15 kW). The overall power is 750 PS (552 kW) at 9000RPM and 700 Nm (516 lb-ft) of torque. The racing car  is also 35 kg lighter than its predecessor meaning that is a lot faster.
The aerodynamics are improved by a revised rear wing, a modified front splitter and a new rear diffuser featuring a larger surface area with redesigned fences and foot-plates.
The improved 599XX Evo also comes with new compound Pirelli P-Zero slicks for maximum grip.
The new 599XX Evolution can lap the Fiorano racetrack in 1 minute and 15 seconds.