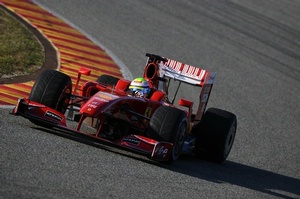 Following the "difficult" track debut of the F60 on Monday, Ferrari decamped to the engineering transporters on Tuesday to analyse the birth of its new 2009 single seater.
"After such serious rule changes, the shakedown is always a very difficult affair," Brazilian Felipe Massa, at the wheel of the Mugello debut, said.
"In the next tests there will be changes (to the car)," he revealed.
On Monday, the car – also hosting the circuit debut of a Ferrari KERS system – completed only about 100 kilometres.
Even the Italian marque's president Luca di Montezemolo was present for the roll-out debrief. According to reports, the most troublesome areas of the F60 was KERS, and also the new front wing.
It is also suggested that the F60 features a radical solution to the new aerodynamic restrictions for 2009 in the area of the underbody.
Ferrari's aero-detailing of the side mirror mountings is also distinctive, and a subtly different colour of red paint has been used because it is slightly lighter than last year's tint.
Following the Tuesday debrief, Ferrari chiefs arranged to depart Mugello and prepare for the car's proper test debut, alongside other teams next week at the Portimao circuit in Portugal's Algarve region.
"The season is going to be completely unique," team boss Stefano Domenicali said earlier this week. "We have had to make a great many changes in a very short time, but I hope that from the outset we are competitive."
Technical director Aldo Costa added: "The car is not an evolution of the F2008. Quite the opposite: we began with a clean sheet of paper and built a completely new car."
Check out Ferrari F60 video