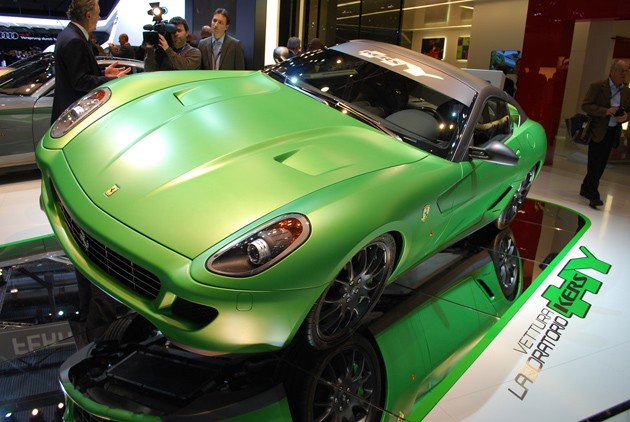 Ferrari 599 HY-KERS
In the Eighties, you wanted your MTV. Now that you're a little older and a lot richer, you want your naturally aspirated V12 Italian cars, and both Ferrari and Lamborghini plan to deliver. The raging bulls at Sant' Agata are incorporating more lightweight materials into their cars in order to get over emissions hurdles, but Ferrari has different plans, likely including a road-going iteration of its kinetic energy recovery system, as seen fitted to its 599 HY-KERS concept car at the Geneva Motor Show earlier this year.
According to Autocar's quote from Ferrari CEO Amedeo Felisa, "Hybrid means we can protect the V12," suggesting Ferrari believes its unassisted 12-cylinder will live on. Autocar's theory is that the next Enzo could see its V12 paired with an electric motor to keep the government watchdogs happy. Of course, this contradicts Autocar's Ferrari piece from about ten days ago when, after speaking with Felisa, it wrote, "Felisa also hinted that the new Ferrari Enzo will be powered by a direct-injection twin-turbo V8 when it is launched in 2012."
It could be that Ferrari will use a naturally aspirated V12, only not in the Enzo – the F40 was a V8 while the Testarossa/512 received the big-engine treatment. Frankly, we're all for a hybrid Enzo, though. Provided they can keep the weight down, a silent supercar at low speeds with 600-plus horses that could bolt at a half-second's notice would make the most awesome getaway car ever.