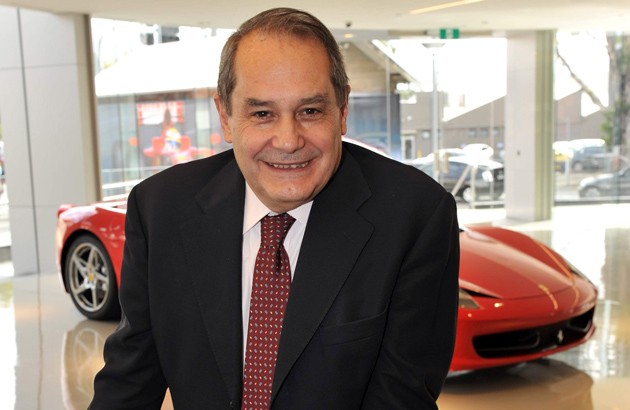 What goes around comes around. Ferrari broke ground in the supercar sphere with the 288 GTO and F40, which both used twin-turbo V8 powertrains. The subsequent F50 and Enzo went with V12s, and the 599's mill was based off the Enzo's. But the next model in Ferrari's range-topping mid-engine exotic line will go back to the twin-spool eight-pot.
This directly from the company's chief executive Amedeo Felisa (pictured above with the new 458 Italia), speaking with Autocar magazine. Although a high-output, direct-injection, twin-turbo V6 bounced around the rumor mill, Felisa says no such plans are in place, as customers still look to cylinder count as an indicator of a car's capabilities. The CEO added that the implementation of hybrid technologies – as previewed in the 599 HY-KERS concept – will allow Maranello to continue offering high cylinder counts, including V8, V10 and V12 engines. This is especially interesting because, F1 cars aside, Ferrari has never made a road-going V10. Could be an indicator of things to come, or perhaps just a typo.
Felisa also spoke on the use of carbon fiber, saying that its implementation will, for the time being at least, remain limited to the Enzo stratosphere and not used in its production models. According to Felisa, "nobody today has a real understanding of what happens if you damage a carbonfibre structure." Given its decades of experience with the material in F1 and the hundreds of on-track crashes that it surely accumulated over the years, if Ferrari doesn't understand it, we struggle to imagine who does.