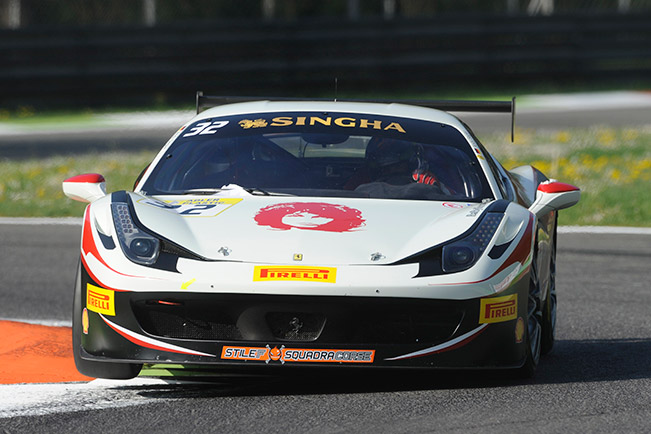 The second round of the Ferrari Challenge Europe Trofeo Pirelli gets underway tomorrow , featuring diametrically different scenarios in the Pro and Am categories. In the Pro category, the star performer at the Monza weekend was "Babalus" who delivered a fantastic double victory thanks to superb driving and a little bit of good luck, sending him sprinting well out in front of the rest of the field. The Autoropa driver now looks down from his towering 44 points to the 19 of his nearest rivals David Gostner (Ineco-MP Racing) and John Farano (Rossocorsa), though the latter won't be racing this weekend. Virtual third place is thus in the hands of Dario Caso (Rossocorsa-Pellin Racing), who finished second in Race 2 after being forced to retire on the Saturday.
Three drivers within six points.The scenario could not be more different in the Trofeo Pirelli Am, where the top three drivers are clustered together within six points. Leading the group is German Andreas Selger (StileF Squadra Corse), author of a second and a third place at Monza. Just two points behind him is Alessandro Vezzoni (Rossocorsa-Pellin Racing) who, after incurring a penalty in Race 1, took an authoritative victory in Race 2 on the Sunday. In third position is Swede Martin Nelson on 24 points like Swiss driver Nicolas Sturzinger who will, however, be skipping Mugello. In fifth position is the winner of the first race of the season, Tommaso Rocca, on 22 points.
Blistering performance. The 458 Challenge EVOs, which are used in all the Ferrari Challenge series, will be battling it out hard on the fantastic Prancing Horse-owned circuit this weekend. In the Pro class, it'll be intriguing to see if anyone is capable of opening up the Championship again and blocking Babalus's initial winning streak. In the Am class, it'll be interesting to see which driver is first to make a clear impression on the championships standings. The schedule for the weekend's racing, which is being broadcast live on Sky Sport 3, is as follows: Saturday, 12.30 CET Race 1 Trofeo Pirelli; 15.15 Race 1 Coppa Shell; Sunday 12.30 Race 2 Trofeo Pirelli; 15.15 Race 2 Coppa Shell.
Source: Ferrari