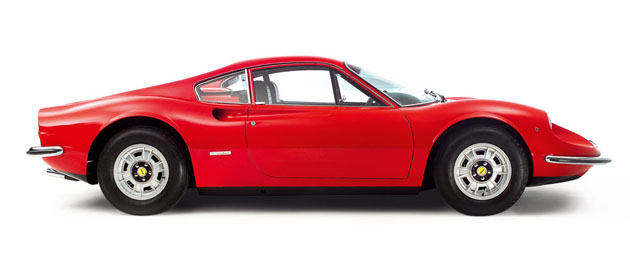 Purists who've given up hope with Porsche amidst their sedan and SUV shenanigans aren't going to like this one bit. After all but completely phasing out even the option of a manual transmission in Ferrari road cars (in favor of robotized sequentials and dual-clutch gearboxes), Ferrari's management says it can't rule out the possibility of a V6 in the near future.
The quote comes from Ferrari's chief executive Amadeo Felisa, who said that while the prospect would have been entirely dismissed as recently as a year ago, today's climate – in terms of the environment and customer conscience – precludes its being ruled out now. The last time Ferrari built a V6 (also used in Fiats and Lancias) was with the Dino 246 (pictured above) that went out of production in over a quarter century ago. The Dino is, however, fondly remembered as a classic, despite its relatively small engine.
Felisa did, however, rule out the possibility of taking future Ferraris electric-only. The Maranello-based exotic automaker is presently working on a hybrid system.