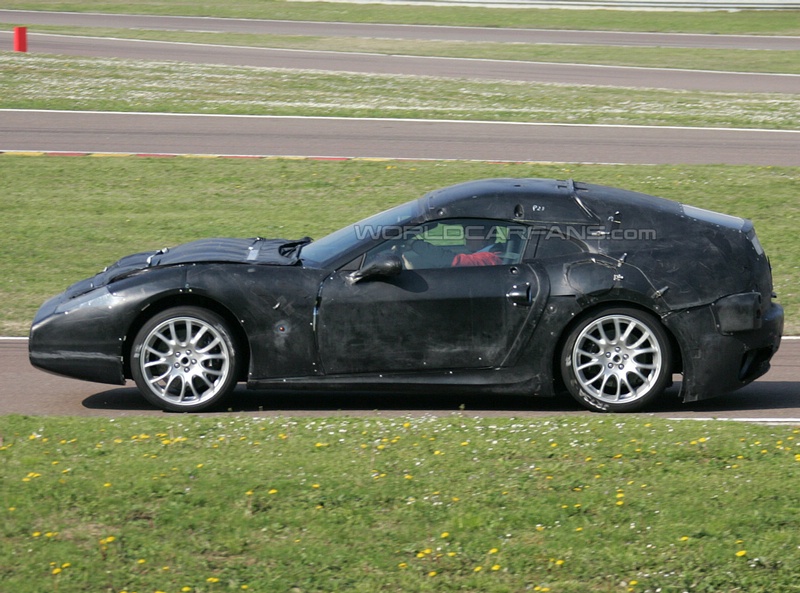 The car that still officially doesn't exist was spied again. If you have not seen it yet, one of our spies caught the prototype Ferrari Dino while undergoing some testing on a track. This thing has been denied so many times by Ferrari, most recently by president Luca di Montezemolo and former CEO Jean Todt at the Geneva Motor Show. While at that show, the two did announce that a new Ferrari will debut in Paris later this year, but no further information was available.
What we do know, according to GrandPrixLegends, is that Mattel will distribute a scale model of the new Dino in 2008. What is still possible is that the car we think will be the next is actually a GT420 or 470. Believed to be based on the front engine Maserati GranTurismo, this new Ferrari likely has a V8 engine with 400 horsepower. Initial production will likely be of a coupe, with a convertible coming down the road. Pininfarina is speculated to be in charge of design. The spy shots show a prototype car so heavily padded, it may be meant to look like the mule caught by Automedia last September.
That car was based on the body of a Ferrari 599.
The name "Dino" holds special significance to the Ferrari family. Enzo Ferrari's son, Alfredino "Dino" Ferrari passed away in 1956 from muscular dystrophy. He was 24 years old. Enzo designed a Dino-badged car, produced from 1968 to 1976, with a V6 in the rear.
A new Ferrari Dino could cost anywhere between €100,000, on up to €115,000, pending final design and the current high Eurozone inflation rate. Some experts have said that Ferrari could sell 4,000 units of a new Dino annually once production is approved. If Ferrari can build a high quality Dino, but still maintain high margins, this car could significantly benefit Ferrari's bottom line. Expect to see this car on the road by 2009.