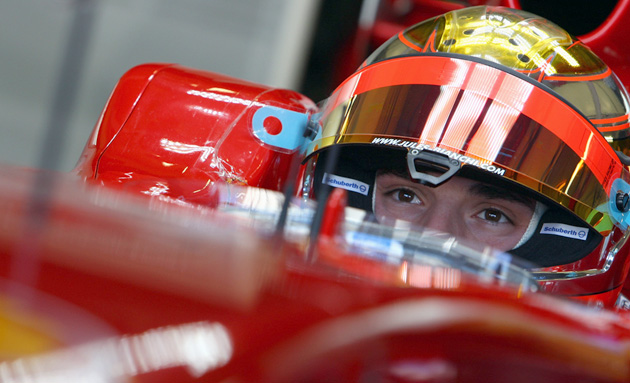 Jules Bianchi tests for Scuderia Ferrari 
Ferrari got seriously caught with its pants down last year in Formula One. When Felipe Massa was sidelined with a head injury halfway through the season, the Scuderia found itself without a viable replacement after Michael Schumacher proved unfit to take his place, veteran test driver Luca Badoer failed to rise to the challenge and Giancarlo Fisichella didn't manage to score a single point. But the venerable F1 team is learning from its mistakes with the launch of the Ferrari Driving Academy.
Similar to the programs run by Red Bull and Renault, the Ferrari Driving Academy was established to foster young talent along the ladder to Formula One, starting way down in karting. The program is run by Luca Baldisserri, the strategist who replaced Ross Brawn during his sabbatical and who currently serves as the team's track manager.
The first pupil selected for the program is Jules Bianchi. The young French driver, managed by former Ferrari CEO Jean Todt's son Nicholas, is the scion of a successful racing family: his grandfather Mauro Biachi won the FIA GT Championship three times, and his great uncle won the 24 Hours of Le Mans and competed in nineteen grands prix. Jules himself won the French Formula Renault 2.0 title in 2007 and the F3 Euroseries in 2009, and following his test for Ferrari in December, has scored a podium finish in his debut in the GP2 Asia series. Not a bad start, so we'd better keep our eyes open for Bianchi and future Ferrari Driver Academy pupils making their way up the ladder. Press releases after the jump.