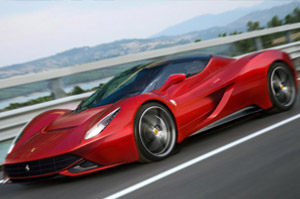 Ferrari will be launching the successor for the Enzo hypercar by the end of this year. Ferrari isn't about to be complacent after it unveiled the 2012 F12 Berlinetta sports car. The Enzo Ferrari hypercar ended its run in 2004. This new car, which will probably be named F70, has much in common with the older F40 and F50 models and will keep the stunning design of the old Ferrari flagship as obviously seen in Scott Olsen's renderings. It also features a mid-mounted engine as well as rear-wheel drive. There were rumors that the replacement for the Enzo would not have the traditional V-12 powerplant and instead, it will get a direct-injected, twin-turbo V-8. However, this actually isn't the case since the F70 would probably be powered by the same 6.3-liter V-12 as the F12 and FF gran turismos but built with a lot more power.
The twelve-cylinder in the F70 can deliver around 800 hp. It will be mated with a KERS (kinetic energy recovery system) driveline that gets a 120-hp electric motor. This motor allows for zero-emission travel under light load but it could also boost the V-12, raising the net power output to 920hp. But then, it would be premature to discount a twin-turbocharged V-8 since it's very possible that the F70 will signal the end of this engine, which would later be replaced by a twin-turbo V-8.
Since it's clear that the targeted weight of the carbon-fiber supercar was inspired by the Millechili (1000 kilogram, 2200 pound) concept, the F70 has to get close to the track-only FXX, which weighed only 2550 pounds. Even with its carbon fiber body, Ferrari intends to use abundant amounts of aluminum – such as an aluminum chassis – so that construction complexity would remain low. Ferrari expects the F70 to be faster off the line and faster overall than the 1001-hp Bugatti Veyron. The drop in weight can help the F70 surpass the 0-62mph acceleration time of the Veyron of 2.46 seconds.