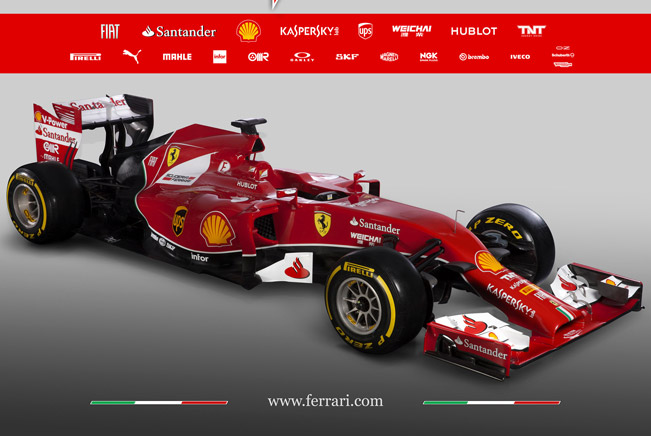 Ferrari has announced their 6th car for Formula 1 World Championship. The name of the model is F14 T and it now has turbocharger in the power unit. The project started two years ago and we can see a lot of heritage of earlier Ferrari designs in this one.
The pull-rod front and rear suspension are not new, but visualy it is very different to the cars of recent years due to changes to the regulations. The chassis and the nose have been lowered and the rear wing now has a larger stroke DRS. The front wing is regulated to be 75mm narrower per side.
The F14 T has a completely different cooling, engine oil and water radiators are smaller in order to match the V6 internal combustion part of the Power Unit, an intercooler for the turbo-compressor system has been added.
Other modified systems are the breaking, transmission and new Pirelli tyres and 13" OZ front and rear wheels.
Ferrari F14 T Technical Specifications:
Chassis in carbon-fibre and honeycomb composite structure
Ferrari longitudinal gearbox
Servo controlled hydraulic limited-slip differential
Semiautomatic sequential and electronically controlled gearbox with quick shift
Number of gears – 8 +Reverse
Brembo ventilated carbon-fibre disc brakes (front and rear) and brake by wire rear brakes
Independent suspension, pull-rod activated torsion springs front and rear
Weight with water, lubricant and driver = 691 kg
13″ OZ Wheels (front and rear)
ENGINE
Displacement 1600 cc
Max revs 15′000
Turbo charging Single turbo
Fuel flow 100 kg/hr max
Fuel capacity 100 kg
Configuaration V6 90°
Cylinders 6
Bore 80 mm
Stroke 53 mm
Valves 4 per cylinder
Injection 500 bar – direct
Units per driver 5
ERS SYSTEM
Battery Energy (per lap) 4 Mj
MGU-K power 120 kW
MGU-K max revs 50′000 rpm
MGU-H max revs 125′000 rpm