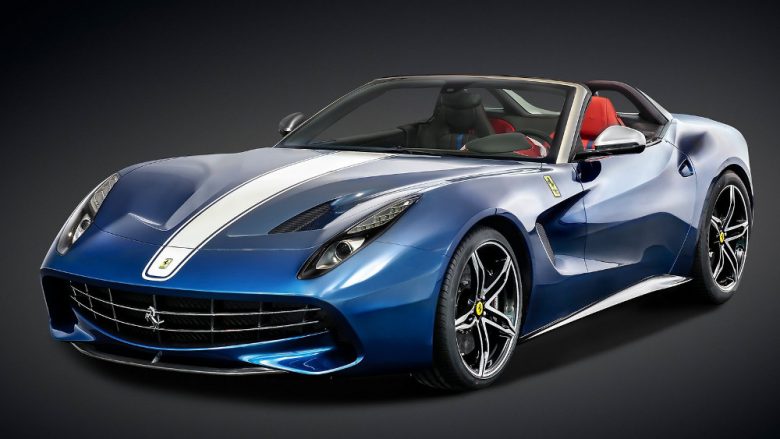 To celebrate Ferrari's 60th year in North America, Maranello has returned to its 1950s and 60s tradition of producing strictly limited edition, built-to-order cars. The result is the F60America, of which just 10 will be produced. The new car combines our American clients' two great passions – the V12 engine and open-top driving – and has been unveiled at an anniversary celebration gala dinner at Beverly Hills City Hall.
The decision to produce such a strictly limited edition pays homage to another great tradition. Just 10 F60Americas will be built as was the case, for example, with the 1967 275 GTS4 NART Spider, the open version of the 275 GTB4 that the importer, Luigi Chinetti, specifically requested from Enzo Ferrari for his US clients.
The F60America is powered by Ferrari's award-winning mid-front-mounted V12 which enables the car to sprint from 0 to 100 km/h in just 3.1 seconds.
Powerfully muscular, the car is clothed in beautifully sculpted and exceptionally balanced volumes, honed, as ever, strictly to aerodynamic requirements in line with the marque's DNA.
The F60America's personality is instantly clear from its flanks which are characterised by an innovative diapason design theme. The front of the car is dominated by the classic Ferrari single front grille with chrome finish and integrated air intakes for the brakes.
Two leather-trimmed roll-hoops are backed by carbon-fibre-trimmed flying buttresses which stretch from behind the cockpit to the rear, imbuing the elegant harmonious forms of the tail with a sense of movement.
The F60America can be closed with a light fabric top usable at speeds of up to 120 km/h.
The cabin's asymmetrical design highlights the driver's area with sporty red trim, while the passenger side is black, inspired by the historic Ferrari competition cars. The cabin trim is exclusive with the dash, tunnel and door panels on the driver's side all swathed in composite materials. The racing seats also feature a stylised American flag motif on the centre of each seat and backrest.
The F60America's bodywork adopts the classic North American Racing Team livery, and the special Ferrari 60th anniversary Prancing Horse badge on the wheelarches also appears on the tunnel in the cabin.
Source: Ferrari
Video Source: Shmee150 via YouTube